2019 iHeartRadio Jingle Ball Tour Lineup: Taylor Swift, Katy Perry & More
By Taylor Fields
September 27, 2019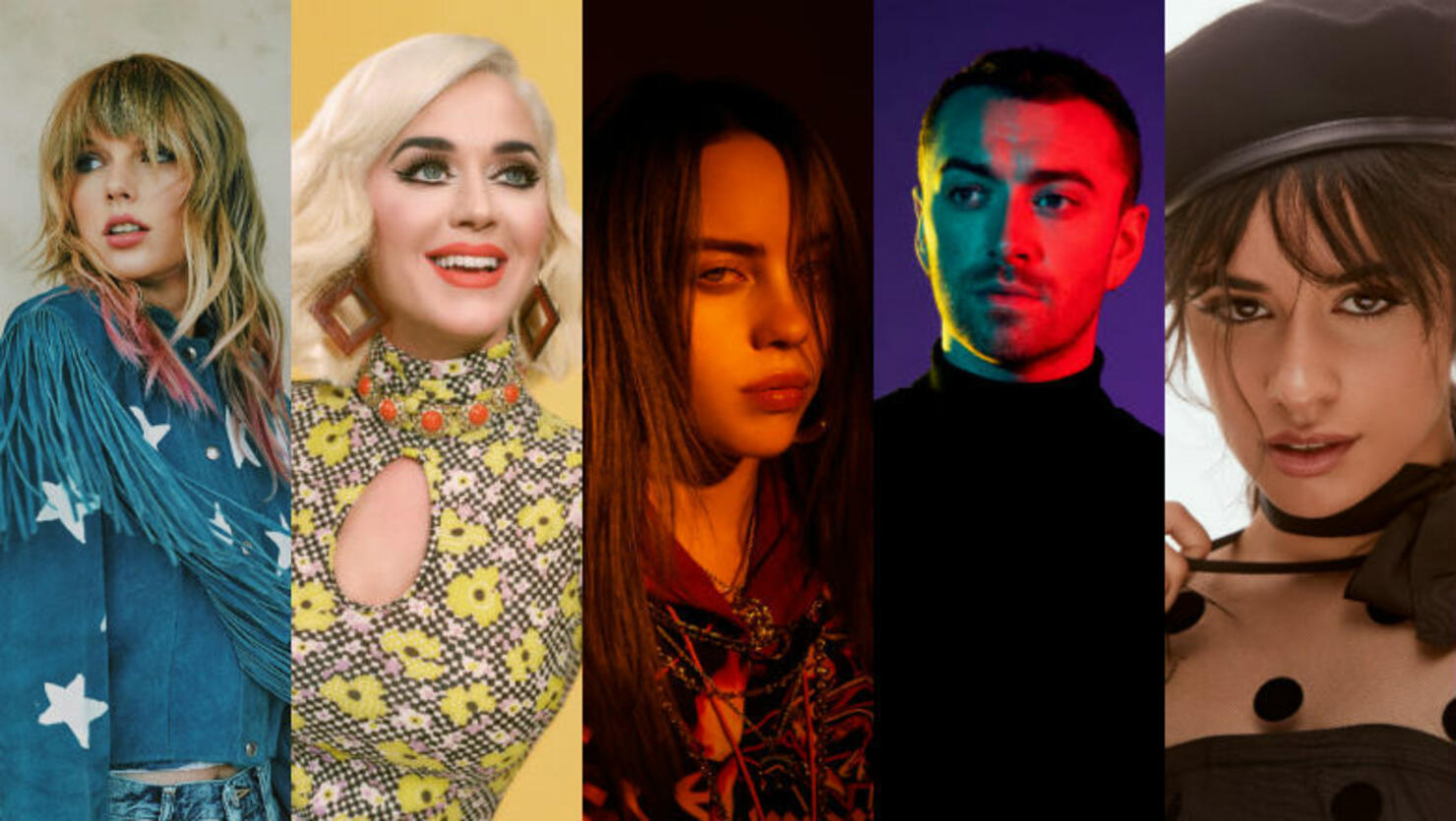 The most wonderful time of the year is just around the corner, and we're not just talking about the holidays. The 2019 iHeartRadio Jingle Ball Tour presented by Capital One is kicking off December 1st in Tampa and stopping in cities all across the US throughout December including Los Angeles, Minneapolis, Philadelphia, New York, Boston, Washington DC, Chicago, Atlanta, and Miami – and the star-studded lineup is officially here!
This year's iHeartRadio Jingle Ball Tour lineup includes Taylor Swift (who will be performing in NYC on her 30th birthday) Katy Perry, BTS, Billie Eilish, Jonas Brothers, Sam Smith, Camila Cabello, Halsey, 5 Seconds of Summer, Khalid, Charlie Puth, Niall Horan, NF, Lizzo, Normani, Dan + Shay, CNCO, Why Don't We, Monsta X, Lauv, Lewis Capaldi, Zara Larsson, Fletcher, MAX, and AJ Mitchell.
To keep the holiday cheer going, fans will be able to watch the iHeartRadio Jingle Ball in New York City live on December 13th via an exclusive livestream on The CW App and CWTV.com. The CW Network will also broadcast the event as a nationwide special on Thursday, December 19th at 8pm ET. Fans will also be able to listen to December 13th's festivities across the country on 100 iHeartRadio CHR stations.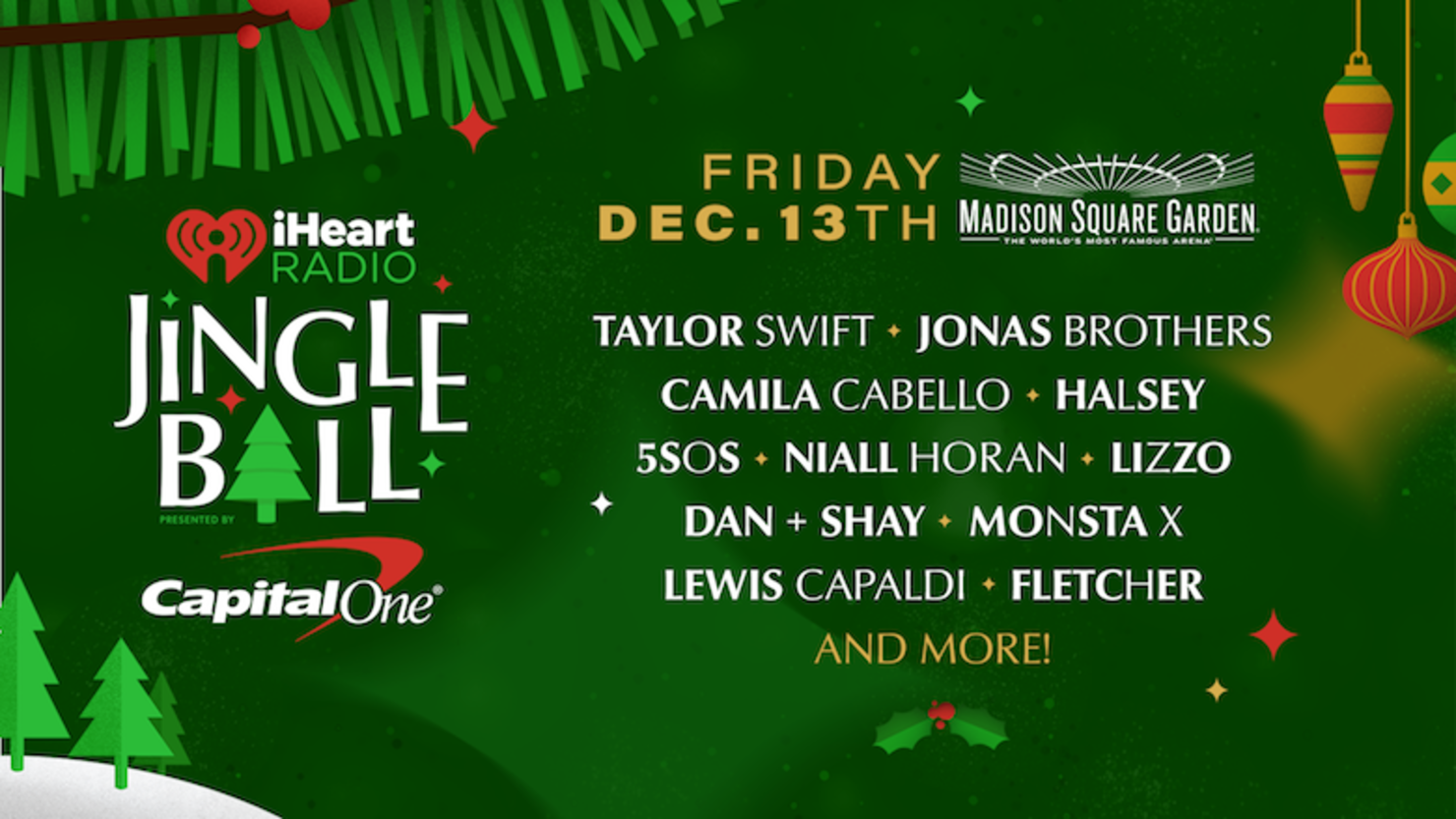 If you're a Capital One cardholder, you will get exclusive access to high demand tickets through a special Capital One Cardholder Pre-Sale in each city. The iHeartRadio Jingle Ball Capital One Cardholder Pre-Sale begins on Monday, October 7th at 10am local time and will run through Wednesday, October 9th at 10am local time, or while supplies last. Tickets will be available via iHeartRadio.com/Capital One. All other tickets will go on sale to the general public on Friday, October 11th at 12pm local time and will be available at www.iHeartRadio.com/JingleBall.
Capital One cardholders will also have the exclusive opportunity to add on Capital One Access Passes to any ticket purchase in Los Angeles, Chicago and New York during the Capital One Cardholder Pre-Sale, while supplies last. The Capital One Access Pass gives cardholders access to an exclusive VIP Capital One Cardholder event before the show with a private performance by an iHeartRadio Jingle Ball artist, backstage tour and more. To learn more about these exclusive cardholder opportunities, visit www.iHeartRadio.com/CapitalOne. 
Take a look at all of the 2019 Jingle Ball Tour Presented by Capital One lineups per city below.
Tampa, Florida - 12/1: 93.3 FLZ's Jingle Ball Presented by Capital One at Amalie Arena
Sam Smith, Lizzo, Normani, Why Don't We, MAX and AJ Mitchell
Dallas/Ft. Worth, Texas - 12/3: 106.1 KISS FM's Jingle Ball Presented by Capital One at Dickies Arena
Camila Cabello, Sam Smith, Charlie Puth, Lizzo, Lauv and Why Don't We
Los Angeles, California - 12/6: KIIS FM's Jingle Ball Presented by Capital One at The Forum
Katy Perry, BTS, Billie Eilish, Sam Smith, Camila Cabello, Halsey, Lizzo and Normani 
San Francisco, California - 12/8: WiLD 94.9's Jingle Ball Presented by Capital One at The Masonic
Charlie Puth, Lil Nas X and Quinn XCII
Minneapolis/St. Paul, Minnesota - 12/9: 101.3 KDWB's Jingle Ball Presented by Capital One at Xcel Energy Center
Katy Perry, Camila Cabello, 5SOS, Why Don't We, Monsta X and Lauv
Philadelphia, Pennsylvania - 12/11: Q102's Jingle Ball Presented by Capital One at Wells Fargo Center
Halsey, 5 Seconds of Summer, Niall Horan, Lizzo, Monsta X, Why Don't We and Lewis Capaldi 
New York, New York - 12/13: Z100's Jingle Ball Presented by Capital One at Madison Square Garden
Taylor Swift, Jonas Brothers, Camila Cabello, Halsey, 5 Seconds of Summer, Niall Horan, Lizzo, Dan + Shay, Monsta X, Lewis Capaldi and Fletcher 
Boston, Massachusetts - 12/15: KISS 108's Jingle Ball Presented by Capital One at TD Garden
Halsey, 5 Seconds of Summer, Niall Horan, Charlie Puth, Lizzo and Why Don't We 
Washington, DC - 12/16: Hot 99.5's Jingle Ball Presented by Capital One at Capital One Arena
Halsey, Khalid, Charlie Puth, Niall Horan and Lewis Capaldi 
Chicago, Illinois - 12/18: 103.5 KISS FM's Jingle Ball Presented by Capital One at Allstate Arena
Jonas Brothers, NF, Niall Horan, Why Don't We, Zara Larsson and Lewis Capaldi 
Atlanta, Georgia - 12/20: Power 96.1's Jingle Ball Presented by Capital One at State Farm Arena
Jonas Brothers, Khalid, Niall Horan, Why Don't We, Lewis Capaldi and Zara Larsson
Ft. Lauderdale/Miami, Florida - 12/22: Y100 Jingle Ball Presented by Capital One at BB&T Center
Jonas Brothers, Khalid, Niall Horan, CNCO, Why Don't We and Zara Larsson