Television Characters Who Are Addicted To Coffee
By Shayna Spero
September 28, 2019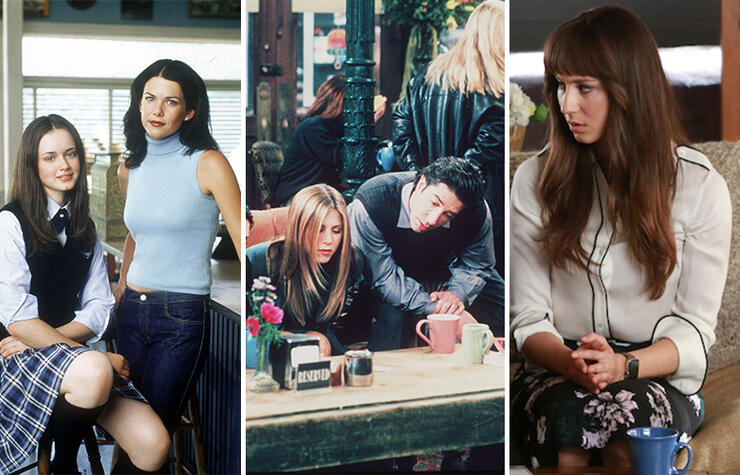 Sunday (September 29) is National Coffee Day, and we have rounded up the most coffee obsessed television characters for you to binge-watch while you are getting your caffeine fix. For these famous television characters, coffee is just as essential as food, water and shelter.
Whether they are drinking out of supersized mugs you could swim laps in or using coffee as a breakfast replacement, these pop culture personas just can't go a day without drinking a cup of java. Scroll through to see who loves coffee just as much as you do.
Every 'Friend' on FRIENDS
Photo: Getty Images
In the series' ten seasons, it was rare not to see Rachel, Monica, Phoebe, Joey, Chandler and Ross sipping on giant cups of Joe on the couch of the gang's favorite hangout, Central Perk.
Lorelai - Gilmore Girls
Photo: Getty Images
"Everything in my life has something to do with coffee. I believe, in a former life, I was coffee." - Lorelai Gilmore
Enough said.
Spencer Hastings - Pretty Little Liars
Photo: Getty Images
With Spencer Hastings over-zealous personality and being the backbone of the group, it is not surprising that her go-to brew is just as intense. After all, what else would keep her up at all hours of the night putting clues together to find 'A'?
Captain Kathryn Janeway - Star Trek Voyager
Photo: Youtube
"Coffee: the finest organic suspension ever devised." Captain Kathryn Janeway was known for her addiction to black coffee, never missing a cup and sometimes even drinking coffee in place of having breakfast.
Miranda Priestly - The Devil Wears Prada
Photo: Youtube
Andrea, the intern played by Anne Hathaway is frequently seen making runs to get Miranda's no-foam skimmed latte with an extra shot and three drip coffees with room for milk.
Penny - The Big Bang Theory
Photo: Getty Images
The longer Penny was friends with Leonard, Sheldon, Raj and Howard, the more she began to understand some of their science lingo. But don't expect Penny to help anyone "engage the superior colliculus" until she's had her coffee.
Agent Dale Cooper - Twin Peaks
Photo: Getty Images
A frequent meeting spot for FBI Agent Dale Cooper was the Double R Diner, where Agent Cooper always preferred his fine cup of coffee black with a side of cherry pie. Paste Magazine compiled a list of every time a character spoke of coffee throughout the entirety of the Twin Peaks series and were met with a grand total of seventy (spoken) references.
Jack McFarland - Will & Grace
Photo: Getty Images
Although short-lived, Jack develops a coffee addiction because of the cute barista working at the local coffee shop in the Coffee & Commitment episode of the series' third season.
Nancy Botwin - Weeds
Photo: Youtube
A recurring image during Weeds' eight seasons is Nancy gulping from a half-full iced coffee cup, or at least holding one in her hand. IGN once asked how many cups of coffee actress Mary-Louise Parker thinks her character Nancy drank per day, to which Parker responded, "I would say four per day."
Chat About Television Characters Who Are Addicted To Coffee