Florida Georgia Line Wraps Tour + Sweeps 3 ACM Awards
By Lauryn Snapp
September 30, 2019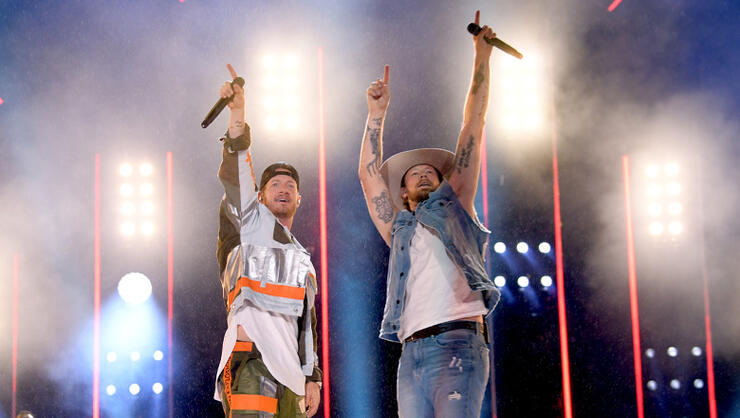 Florida Georgia Line's 36-date 'Can't Say I Ain't Country Tour' has just come to an end, and as the duo closed the tour, they simultaneously swept three ACM Awards. 
Tyler Hubbard and Brian Kelly were both presented by the ACMS with "ACM Breakout Artist," "Single of the Decade," & "Musical Event of the Decade" awards during their show at the Irvine's Five Point Amphitheater. The win came as a complete shock to FGL, as they gathered backstage thinking that they were there to meet with friends and family who had joined them for the final show.
Instead of being met with a Mexican fiesta with friends and family, they were met with the bright smiles of ACM staff holding beautiful plaques from the Academy of Country Music for three wins. 
The duo won the "Single of the Decade" award for their 11-times platinum 2012 hit, "Cruise." They took the award for "Music Event of the Decade" for their 2017 cross-genre collaboration with Bebe Rexha. Their win for "ACM Breakout Artist" was acknowledged for their artistry and impact on country music. Consideration for this prestigious award includes success at radio, commercial media, sales and streaming, creative integrity, touring statistics, and artist merit. 
FGL shared the special moment on Instagram saying, "We are so humbled to receive the first-ever ACM Breakout Artist of the Decade Award, ACM Single of the Decade Award and ACM Music Event of the Decade Award. This is just wild to us. Thank you so much to the @acmawards and our fans for continuing to support us in such a big way. It really means a lot. Y'all make it so easy for us to continue to count our blessings and we love you for it." 
See the photo below. 
Photo Credit: Getty Images.
Chat About Florida Georgia Line Wraps Tour + Sweeps 3 ACM Awards