Ricky Martin & Husband Jwan Yosef Expecting Fourth Child
By Paris Close
September 30, 2019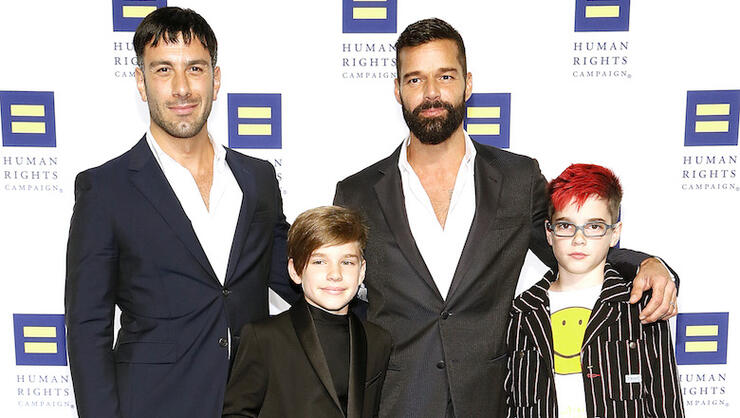 Ricky Martin and Jwan Yosef are going to be a family of six!
The "Livin la Vida Loca" musician revealed the spectacular news that he and his husband were expecting their fourth child together during the 23rd annual Human Rights Campaign National Dinner in Washington, D.C. on Saturday (September 28).
"I have to announce that we are pregnant. We are waiting," Martin told the audience while accepting an award at the ceremony after shouting out husband Yosef and their kids. "Alright! I love big families."
The 47-year-old entertainer, who shares three children with the Syrian-born Swedish artist — 11-year-old twin sons Matteo and Valentino, and nine-month-old daughter Lucia — was presented with the organization's National Visibility Award for being an advocate of LGBTQ rights.
The news of Martin and Yosef's newest addition comes nearly a year after the happy couple celebrated the birth of their first daughter in December 2018.
"We are excited to announce that we have become parents of a beautiful and healthy girl whom we have named Lucia Martin-Yosef," the Puerto Rican superstar shared on Instagram at the time. "This has undoubtedly been a unique birthday and celebration of Christmas in our lives. Both her brothers and Jwan and I are completely in love with our baby and grateful to be able to start this 2019 with the best gift we could receive, the gift of life."
The lovebirds neither revealed the due date nor the sex of their future child, but Martin has previously spoken about wanting a big family. "I want four more pairs of twins," he once told E! News after their wedding. "I do want a big family … we're going to put things in order first and then we're going to get ready for many more kids."
Photo: Getty Images
Chat About Ricky Martin & Husband Jwan Yosef Expecting Fourth Child