Roger Waters Explains Why 'Us + Them' is a 'Call To Action'
By Taylor Fields
October 1, 2019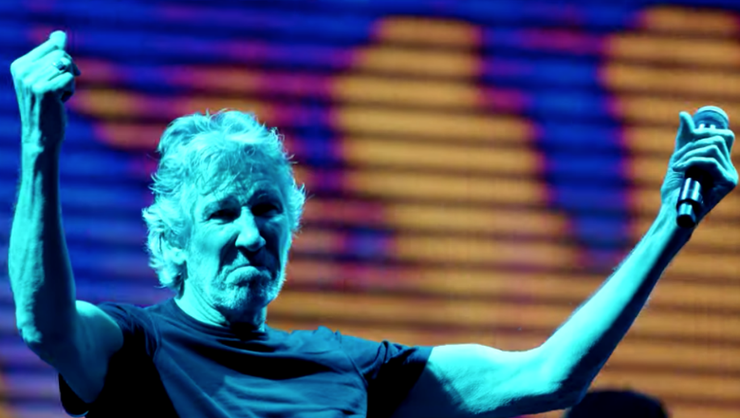 Roger Waters's new film Us + Them hits theaters across the world this week (on October 2nd and 6th), and fans will be able to see the rock star on the European leg of his critically acclaimed 2017/2018 world tour "US + THEM." During the tour, Waters performed a whopping 156 shows to 2.3 million fans in North America, Australia and New Zealand, Europe, Russia, Latin America, and Mexico.
But, Us + Them is more than just the rock legend performing music. Waters exclusively tells iHeartRadio ahead of the film's debut, "Us + Them is more than concert film, although there are all the songs you're hoping to hear. More than that, there's a story in the film that should move sentient beings to tears. It's also a call to action: act now, pool our love, stop our blind march to extinction. Us + Them is a film about empathy, about the human capacity for love."
Us + Them, filmed in Amsterdam, is set to be screened in over 2,500 theaters across 60+ countries around the world. In the film, the Pink Floyd co-founder and visionary director Sean Evans bring fans inspiring messages about human rights, liberty and love with Waters' powerful music. Fans will hear songs from iconic Pink Floyd albums like The Dark Side of the Moon, The Wall, Animals, Wish You Were Here, in addition to his last album, Is This The Life We Really Want?
In a press release, Waters has previously said of Us + Them, "US + THEM is not standard rock and roll fare, some in the audience may 'yee haaaa!!!' Which is ok, but many will weep. That is what I hope for. US + THEM is a call to action. Homo Sapiens stand at a crossroads, we can either pool our love, develop our capacity to empathize with others and act collectively for the good of our planet, or we can remain Comfortably Numb, and continue, like blind lemmings, on our current omnicidal death march towards extinction. US + THEM is a vote for love and life."
Evans added, "This is a great film — an amazing performance delivered with care, emotion and meaning. Didn't think it was possible, but I believe we've outdone The Wall..."
Catch Us + Them in select theaters on October 2nd and 6th.