Eric Clapton Is Auctioning Two Of His Own Personal Guitars For Crossroads
By Andrew Magnotta @AndrewMagnotta
October 1, 2019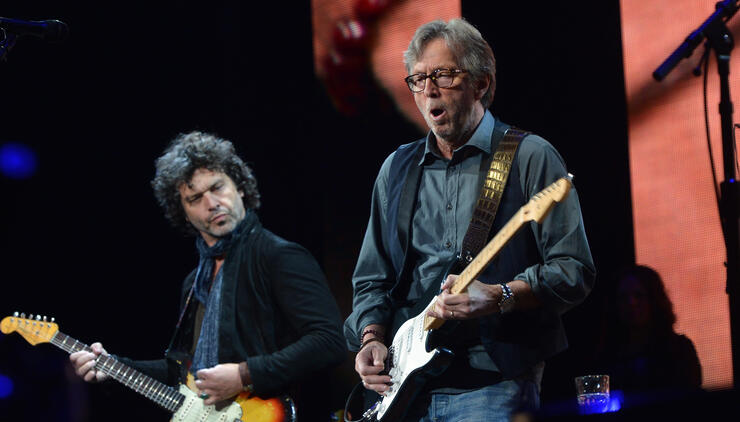 Two guitars from Eric Clapton's personal collection are for sale in another auction intended to benefit the rock icon's Crossroads Centre for addiction rehab in Antigua.
This time around, Clapton is parting with a pair of reissued versions of guitars he used during the late-'60s. One is Prototype #3 for a Gibson 1964 Firebird Limited — a remade version of a guitar favored by Clapton in his days with Cream.
The other is one of Fender's new 50th Anniversary Blind Faith Telecasters, a reissue based on the customized guitar Clapton used during Blind Faith's legendary concert in Hyde Park in 1969. The long-lost guitar was recreated by Fender and Guitar Center as part of the 2019 Crossroads Guitar Collection. A portion of proceeds from retail sales of the limited-edition guitars will also benefit Crossroads Centre Antigua.
Guitar Center SVP Michael Doyle told Q104.3 New York's QN'A in August that Clapton loved the first prototype of the the Tele "just as it was."
Reproductions of Clapton's the Firebird were limited to 100 guitars. At the time of this writing, the current bid for the Gibson is over $26,000.
The current bid for the Fender as of this writing is about $23,000, nearly twice the price of the same guitar if it was not played and owned by Clapton.
The auction closes this weekend. To get a closer look at the two guitars, go here.
Photo: Getty Images
Chat About Eric Clapton Is Auctioning Two Of His Own Personal Guitars For Crossroads