Songs About Boyfriends To Add To Your National Boyfriend Day Playlists
By Shayna Spero
October 2, 2019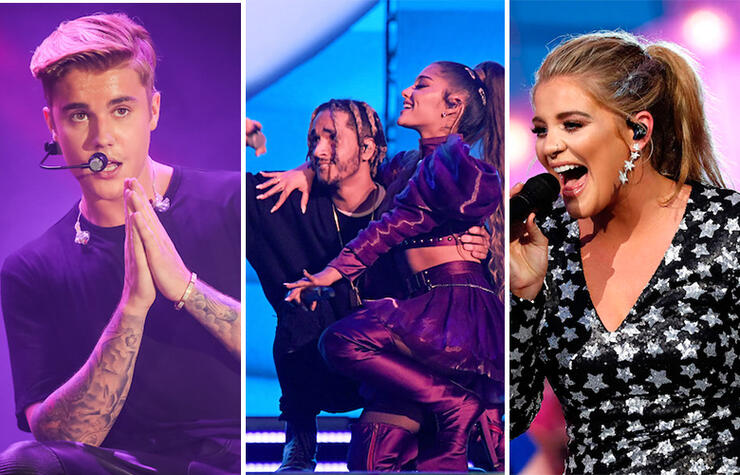 Boyfriends of the world, this day is for just for YOU!
October 3 marks National Boyfriend Day and there is absolutely no better way to celebrate and show appreciation for all the romantic, silly, and downright amazing things they do than by jamming to some boyfriend-centric songs.
From Justin Bieber, Ariana Grande and more, check out some of our favorite songs with the word "boyfriend" in them. Whether the artists on this list are madly in love with their boyfriends, crushing on someone else's or flirting with a potential sweetheart, there is a "boyfriend" song for everyone's playlist. Plus, don't worry if you don't have a reason to celebrate the day, everyone can enjoy the songs boyfriend or not!
You ain't my boyfriend (Boyfriend)/And I ain't your girlfriend (Girlfriend)/But you don't want me to see nobody else/And I don't want you to see nobody
Ariana Grande's summer 2019 anthem for couples who are clearly into each other, but not quite ready for the commitment.
If I was your boyfriend, I'd never let you go/I can take you places you ain't never been before/Baby, take a chance, or you'll never ever know
The song, written by Mike Posner, has Justin Bieber moving past seeing his "Baby" on the playground to imagining that he and his are crush "sitting by the fire while they eat fondue".
You look a lot like my next boyfriend/I can't believe how much you act like him/You and me, we'd be unbelievable/And I'm available
Country darling Lauren Alaina is feeling confident about snagging her bad boy crush and making him her "next boyfriend".
You treat me like your boyfriend/And trust me like a... like a very best friend/You kiss me like your boyfriend
The song was inspired by a love triangle member Sara Quin found herself in with a former girlfriend. "This idea, you know, that we've all been in that situation where we really like someone and we want to make it official, and they're not ready, that's what the song is about," Sara explained in a radio interview.
There's nothing that he's worthy of/He's just another player/Playing in the name of love/I've seen enough/Now this must come to an end/Get another boyfriend
BSB's way of saying, "he's a loser, please dump him."
Leave us alone tonight/Then if it don't work out right/He's all yours/Until then/Better keep your hands off my potential new boyfriend
Dolly warns everyone who's got their eye on her man in this catchy and territorial tune.
Hey, how long till the music drowns you out?/Don't put words up in my mouth/I didn't steal your boyfriend
In this song, Ashlee seems to respond to a girl who has accused her of stealing her boyfriend. While the singer denied initial claims that the song was about Lindsay Lohan, Ashlee admitted in 2018 that it was, indeed, about the Mean Girls actress.
Ain't nothing in this world that I wouldn't do/When it comes to being around you/You baby home boy/Don't you know that I would die if I had to live without you
Toni Braxton samples Tupac's music and vocals from "Me & My Girlfriend" in this ode to her lover. The track was released the same year as Jay-Z and Beyonce's "03 Bonnie And Clyde" single, which sampled the same song. Cue dramatic music.
Seen so many girls come in and out/It sounds a bit insensitive but the truth is what it is/And I want your boyfriend/I'm not gonna lie/I'll be his girl when he tells you goodbye
To some extent, RaeLynn's debut single is about stealing somebody's boyfriend, but written to his current girlfriend. However, RaeLynn wants to play fair and square; she predicts that like most of the girls who have come in and out of his life, this girlfriend is also temporary.
I'm tryna be more than a friend, my heart's on the run/I wanna be your boyfriend, cause you are the one
Released only on the physical copy of his IGOR album, "Boyfriend" continues the narrative of a complicated love triangle where he is seeing a man who is, at the same time, seeing his ex-girlfriend.
Photos: Getty Images
Chat About Songs About Boyfriends To Add To Your National Boyfriend Day Playlists