Thom Yorke Discusses Making 'Uneasy' Music About Society With Colbert
By Katrina Nattress
October 2, 2019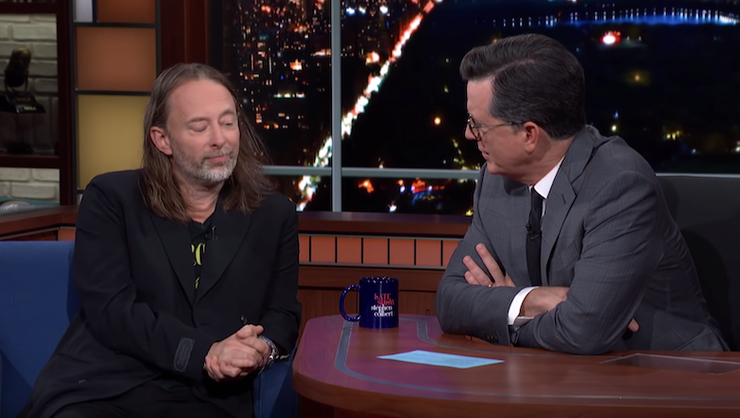 Neither Thom Yorke nor Stephen Colbert are one to shy away from politics, so when the Radiohead frontman visited The Late Show With Stephen Colbert on Tuesday (October 1) it's not surprising that they dove right into the deep end (after the comedian asked him to name his favorite REM song).
"For decades, you've been writing music that is uneasy and anxious with regards to society, our government, technology, the general direction of the world. How does it feel to be right?" Colbert asked with a smirk.
After a pause and some nervous laughter, Yorke admitted that he was never thinking about the future when he wrote some of his more politically charged songs. "I guess I was looking at what was happening at the time," he explained. "I think it's more overt now. I felt like everything I was talking about was there when we wrote the album Hail to the Thief. That seemed pretty bad, that period of time, when Bush Jr. got in. And now we're here."
During their conversation, Yorke also discussed the current state of politics in England and revealed why he thinks he's blown his chance of ever being knighted. Watch the full interview below.
Chat About Thom Yorke Discusses Making 'Uneasy' Music About Society With Colbert