Trump Rages Against Impeachment Inquiry, Calls it a Coup
By R.J. Johnson - @rickerthewriter
October 2, 2019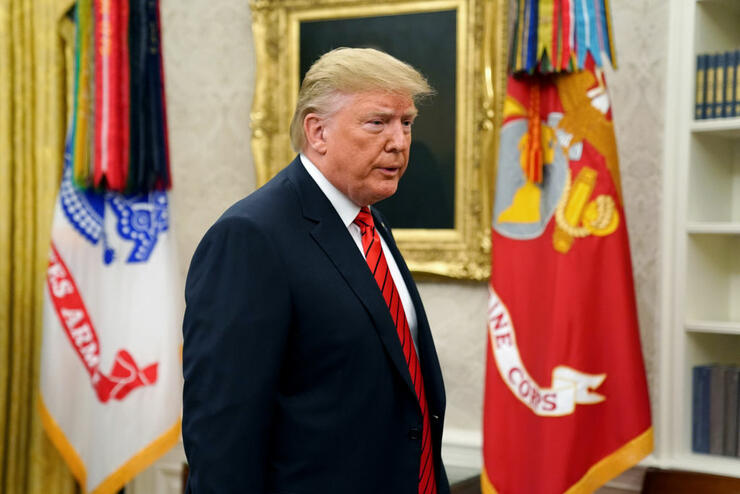 President Donald Trump took to Twitter Tuesday night to rage against the impeachment inquiry that was launched by the House of Representatives last week, calling the proceedings a 'coup.'
"As I learn more and more each day, I am coming to the conclusion that what is taking place is not an impeachment, it is a COUP, intended to take away the Power of the People, their VOTE, their Freedoms, their Second Amendment, Religion, Military, Border Wall, and their God-given rights as a Citizen of The United States of America!" Trump wrote in a series of tweets.
....People, their VOTE, their Freedoms, their Second Amendment, Religion, Military, Border Wall, and their God-given rights as a Citizen of The United States of America!

— Donald J. Trump (@realDonaldTrump) October 1, 2019
A coup is generally defined as the violent overthrow of a country's government or head of state
The tweet came following reports that former Ukraine special envoy Kurt Volker and former Ukraine Ambassador Marie Yovanovitch agreed to sit for depositions before the House committees who are involved in the impeachment inquiry. Democrats in the House began impeachment proceedings last week after revelations from a whistleblower complaint said Trump had attempted to use nearly $400 million in military aid as leverage to pressure Ukraine into investigating former Vice President Joe Biden and his son Hunter for their business ties to that country. The Department of Justice released a summary of the call last week, which contained a record of the two world leaders discussing Biden and military aid for that country.
The whistleblower complaint made public last week accused the White House of trying to conceal the record of that conversation. In the complaint, the whistleblower wrote they believed Trump had been using "the power of his office to solicit interference from a foreign country" for the upcoming 2020 election.
Trump continued his tirade Wednesday morning, this time directing his ire toward House Intelligence Committee Chairman Rep. Adam Schiff (D-CA), demanding the congressman resign after he parodied Trump last week. Video of the event Trump is referring to showed Schiff doesn't claim to be reading the transcription of the July call, but rather what the congressman said was a parody of what the president said and requested during the call.
"It reads like a classic organized crime shakedown," Schiff said during opening remarks last Thursday about Trump's call with Ukraine's president. "Shorn of its rambling character and in not so many words, this is the essence of what the president communicates."
Schiff then began parodying the president.
"We've been very good to your country, very good," Schiff says, as Trump. "No other country has done as much as we have, but you know what? I don't see much reciprocity here. I hear what you want, I have a favor I want from you, though, and I'm gonna say this only seven times, so you better listen good. I want you to make up dirt on my political opponent, understand, lots of it."
"This is in some character what the president was trying to communicate with the president of Ukraine. It would be funny if it wasn't such a graphic betrayal of the president's oath of office," Schiff said of his parody.
Trump did not take kindly to the impression, writing several times over the last week that Schiff should resign and be arrested for treason for what he said on the floor.
"Congressman Adam Schiff should resign for the Crime of, after reading a transcript of my conversation with the President of Ukraine (it was perfect), fraudulently fabricating a statement of the President of the United States and reading it to Congress, as though mine! He is sick!" Trump wrote.
The Speech or Debate clause of the Constitution of the United States (Article 1, Section 6, Clause 1) expressly protects elected officials in Congress from arrest for things they say or do on the House floor.
Photo: Getty Images