Brantley Gilbert Opens Up About New Album 'Fire & Brimstone'
By Taylor Fields
October 4, 2019
Brantley Gilbert's Fire & Brimstone album has officially arrived, and the new music is a glimpse into the country star's life over the last few years.
Fire & Brimstone follows Gilbert's 2017 album The Devil Don't Sleep, and showcases 15 new songs. The new record includes collaborations with Lindsay Ell ("What Happens in a Small Town"), Colt Ford, Lukas Nelson and Willie Nelson ("Welcome to Hazeville"), and Jamey Jonson and Alison Krauss ("Fire & Brimstone").
In a recent interview with Bobby Bones, Brantley explained of his new album, "All my albums have a spiritual faith-based title. It's what I always try to keep first in my life. Doesn't always work that way, but it's an attempt at least. And this record's about my journey and it's a snap shot of this chapter of my life. But we kind of got a little reminiscent on this album as well, and let people know how we got here. The overall place where I'm at just as a man and as a husband and as a dad right now is just ... And what that songs [are] about is just being comfortable in your own skin, and in spite of the whole world pointing fingers or telling you how to do things. If I can go to bed at night and say that I've been the best man I know how to be to people, and been the best husband, and the best dad I know how to be, then it's a win."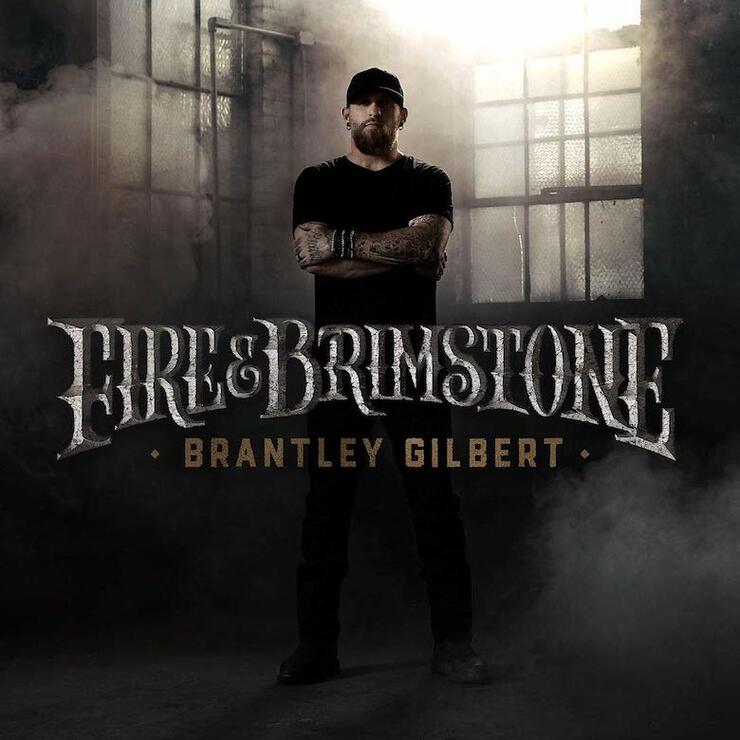 One of the chapters of Gilbert's life that helped inspired the song "Man That Hung the Moon" on Fire & Brimstone is fatherhood. This past September, the country star and his wife Amber welcomed their new bundle of joy into the world, a baby girl named Braylen Hendrix who is now little sister to her almost 2-year-old big brother Barrett Hardy-Clay. In "Man Behind the Moon," Brantley sings heartfelt lyrics, "You're gonna think I hung the moon/ You're gonna think I made the sky/ That the sun rises /And sets inside of my eyes/ And it won't be long/'Til I hear 'Daddy's home' and/ Footsteps running to/ The man that hung the moon."
Brantley explained to Bobby of the song that he wrote it about how his life changed after becoming a father. He said, "Everybody says it's a special moment when the baby's born. You hold it, your whole life changes. I said 'Alright, well I'll write a song about that.' And the whole thing was beautiful and I watched the whole thing and I gained so much respect for my wife and for women in general. I do think women are tougher than men now."
He added, "Childbirth is amazing and I'm glad I watched it, but that's not something you want to put on the radio, so that was out. So I actually wrote the song about one of my concerns about being a dad, and that is that my whole career I've been a what-you-see-is-what-you-get kind of guy. It's kind of been a glass house in there. It worked out great as a writer and as an artist. It helps people relate to songs, but not so much for being a dad, 'cause my kids will find out sooner than most that their dad is not a superhero, you know? And that I've made some mistakes. I just have to have some conversations with them sooner than most parents. And I've kind of come to terms with that, but I wanted them to have a song that says 'Hey, man, you know, to bear and braid both, there's going to come a time in your life and you need more than me. When that time comes, I hope you know there's a man upstairs that really did hang the moon. He's got your back and always will.'"
Chat About Brantley Gilbert Opens Up About New Album 'Fire & Brimstone'