Tyga Appears To Call Kylie Jenner A Liar After She Denies Date Night:UPDATE
By Peyton Blakemore
October 3, 2019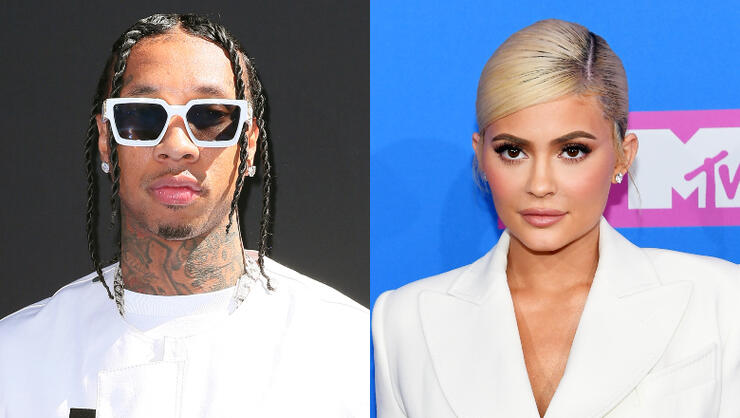 UPDATE:
Tyga appeared to clarify that he was not referring to Kylie in regards to his cap emoji. After his initial post he wrote, "Media 🧢," on his IG Stories, seemingly in an effort to support Kylie's denial about them NOT meeting up on Wednesday.
ORIGINAL STORY:
Well, this is awkward.
Tyga seems to have a different story about his alleged date night with Kylie Jenner. Minutes after the 22-year-old billionaire issued a Twitter statement denying hanging out with Tyga at a recording studio on Wednesday (October 2), the "Taste" rapper put a cap emoji on his Instagram Stories that got the Internet talking.
See, any millennial or member of Gen-Z can tell you "cap" means lying. Example: when someone says "no cap," that means no joke or "i'm not kidding," but when someone says "you're cappin'" or simply "cap" that mean's "you're lying." So, many believed that Tyga was possibly calling Kylie a liar. And while Tyga didn't directly reference Kylie when putting the emoji on his Instagram Story, the timing of the post seems, at the very least, suspicious. As previously reported, the Daily Mail claimed that Kylie was spotted at Sunset Marquis where Tyga was working in the hotel's recording studio early Wednesday morning. The outlet claimed that after Kylie partied with her besties — Anastasia 'Stassi' Karanikolaou and Kelsey Calemine — at West Hollywood hot spot Delilah, the group then headed to the studio where Tyga was recording.
In photos shared by Daily Mail, the business mogul was shown looking downcast as she got into her blue Rolls Royce leaving Delilah. However, the outlet claimed that she managed to "stay out of sight" during the stop at Sunset Marque, with one eyewitness claiming "she left via a different exit."
Kylie though denied seeing Tyga, explaining on Twitter Thursday (October 3) that "there was no '2am date with Tyga,' You see me drop two of my friends off at a studio that he happened to be at." The young mogul also addressed her recent split from the father of her child, writing, "Travis and i are on great terms and our main focus right now is Stormi ‼️ our friendship and our daughter is priority.
Photo: Getty Images
Chat About Tyga Appears To Call Kylie Jenner A Liar After She Denies Date Night:UPDATE