Text Messages Show Diplomats Believed Ukraine Aid Was Linked to Biden Probe
By R.J. Johnson - @rickerthewriter
October 4, 2019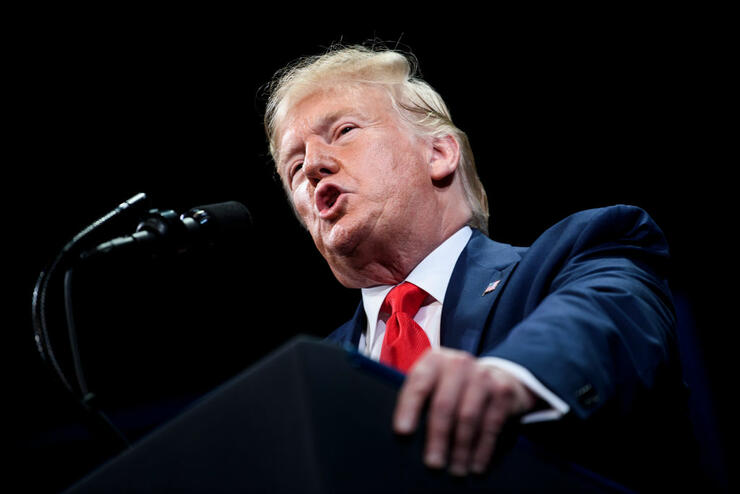 Democrats in the House released a series of text messages from several U.S. officials that show they were working to persuade Ukrainian officials to investigate President Donald Trump's political opponents and linking that to military aid and an official visit to the White House.
The messages were released late Thursday by Democrats in the House who are conducting an impeachment inquiry into Trump amid a whistleblower complaint that said the president improperly used his office to influence the 2020 election by having Ukraine launch an investigation into former Vice President Joe Biden and his son Hunter Biden.
"These text messages reflect serious concerns raised by a State Department official about the detrimental effects of withholding critical military assistance from Ukraine, and the importance of setting up a meeting between President Trump and the Ukrainian President without further delay," the leading members of the three major committees conducting the impeachment inquiry into Trump wrote.
According to the text messages, the diplomats believed if the newly elected Ukrainian president would publicly promise to order an investigation into Biden's son and look into a conspiracy theory surrounding the 2016 election, the White House would grant Ukraine president Volodymyr Zelensky with an official White House visit and release nearly $400 million in military aid Trump had previously placed on hold.
The text messages between Trump's then-special envoy to Ukraine, Kurt Volker and other U.S. diplomats were released following nine hours of testimony from Volker.
"Heard from the White House," Volker wrote in a text to Zelensky adviser Andrey Yermak, just before Trump and Zelensky were were scheduled to speak on the July 25th call that sparked the whistleblower complaint. "Assuming President Z (Zelensky) convinces trump he will investigate/"get to the bottom of what happened" in 2016, we will nail down a date for visit to Washington. Good luck!"
According to the text messages, at one point the diplomats even drafted remarks that Zelensky should use and coordinate those with Trump's personal attorney, Rudy Giuliani and a Zelensky aide.
At one point, the diplomats express concern that the military aid is being withheld over the potential investigation into Trump's political opponents, with Ambassador Bill Taylor calling the two subjects being linked "crazy."
"As I said on the phone, I think it's crazy to withhold security assistance for help with a political campaign," Taylor wrote to U.S. Ambassador to the European Union Gordon Sondland.
Sondland, a political appointee, replies that Trump had been "crystal clear, no quid pro quos of any kind," suggesting they stop discussing the subject via text message.
Trump has repeatedly claimed without evidence that former Vice President Joe Biden used his influence while in office to help his son Hunter while still in office. According to the whistleblower complaint that sparked the impeachment inquiry, Trump pressured the Ukrainian government by leveraging nearly $400 million in military aid for the country to get them to investigate Biden.
The texts come after Trump called on another foreign country - China - to investigate Biden and his son.
"If they were honest about it, [Ukraine] would start a major investigation into the Bidens," Trump told reporters Thursday morning. "They should investigate the Bidens. Likewise, China should start an investigation into the Bidens, because what happened in China is just about as bad as what happened with Ukraine."
Trump was likely referring to accusations that Hunter Biden reportedly used a 2013 trip on Air Force Two with his father to solicit $1.5 billion from China for a private equity fund he had started. Despite the accusations leveled by the president, there has been no evidence that the former vice president and his son are involved in any corruption. According to a fact check from the Washington Post, Biden's son has never been paid for serving on the board of the private equity firm, and did not acquire an interest in the fund until 2017 once his father left office.
Photo: Getty Images