Surveillance Video Shows Deer Smash Through Hair Salon Window
By R.J. Johnson - @rickerthewriter
October 7, 2019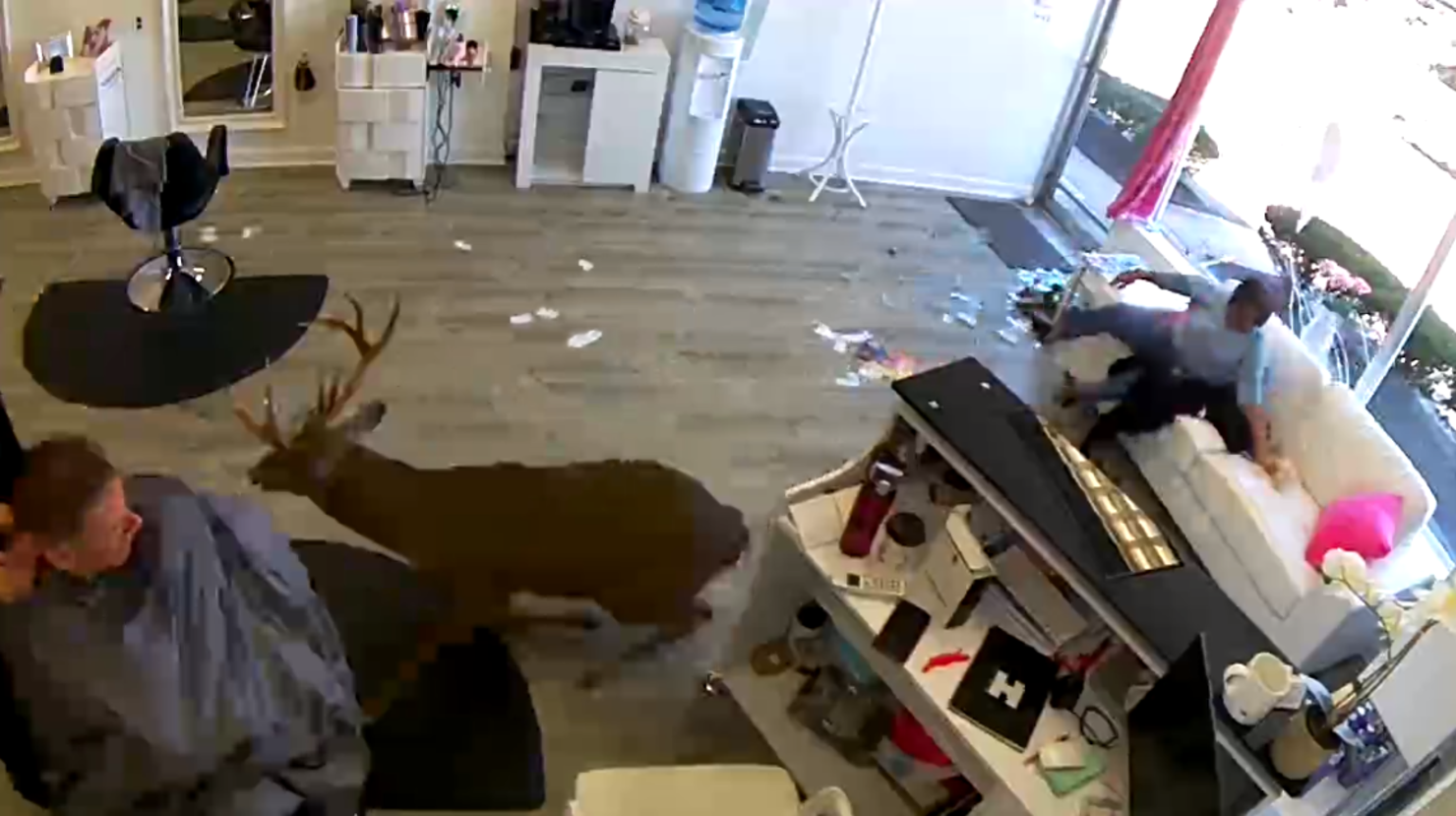 Maybe he just wanted a little off the top?
A wild deer turned an otherwise tranquil day at a hair salon in Lake Ronkonkoma, New York, into a mass of confusion, broken glass, and laughter after a deer smashed his way in the building by going through the plate glass window.
Jenisse Heredia, who owns the shop, said she was cutting her client's hair when all of a sudden, she heard a large crash.
"In my mind, I'm thinking the worst, that a car just drove into a salon," Heredia told NBC News. "I just started screaming. I didn't even know how to react."
Video posted by the salon's Facebook page shows the 6-point buck running across traffic and crashing into the large plate glass window that faces the street, sending shards of glass flying across the shop. The deer leaps over one customer who was seated on the couch next to the window and then scrambles through the salon until it ends up in the shop's breakroom. The surveillance video shows Heredia and her client moving away to avoid possibly being injured by the animal.
"Oh my God, oh my God, OH MY GOD!" Heredia says as the deer runs out of frame toward the back of the salon.
Fortunately, they didn't have to wait too long for the animal figured out it needed to find another way out. The deer left the breakroom and then ran out of the salon, getting a hair iron stuck to its antlers as it crashed through the front door.
With the obvious exception of the plate glass window and the door to the salon, Heredia said the salon didn't take all that much damage from the confused animal. The woman sitting on the couch where the deer jumped was taken to a local hospital for non-life-threatening injuries.
Be.you.tiful Hair Salon was back open for business on Monday, despite the unruly drop-in.