Hannah Brown Rages Against Her 'Bachelorette' Exes On 'DWTS'
By Emily Lee
October 8, 2019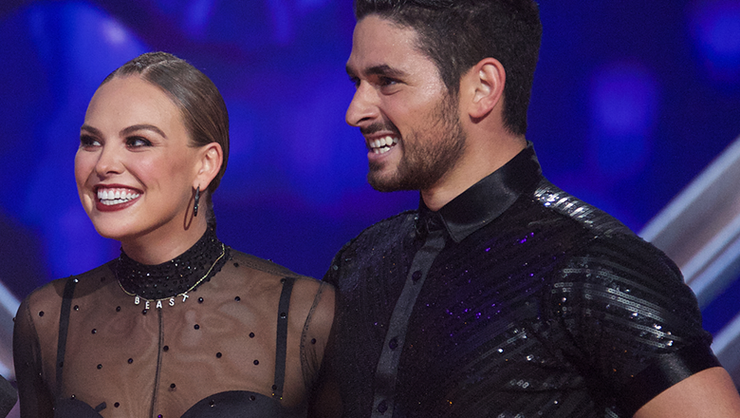 Hannah Brown is absolutely slaying on this season of Dancing with the Stars. The former Bachelorette transformed into her alter-ego "Hannah Beast" on the most recent episode and, tbh, she did not disappoint. While prepping for her big performance along with her partner Alan Bersten, Hannah visited a rage room to let go of some of her anger. Who was Hannah raging against, you ask? Her ex-boyfriends, of course.
During her visit to the rage room, Hannah smashed a bunch of wine bottles with a hammer. "These are all my ex-boyfriends," she told Alan. Following her performance, which was surely helped by her time in the rage room, Hannah spoke to Entertainment Tonight about her wine-bottle-smashing experience. "There were multiple bottles because there were multiple guys," Hannah said, likely referencing her time as the Bachelorette. She also agreed with Alan when he said "There actually weren't enough bottles."
As all Bachelorette fans know, Hannah's season was particularly dramatic. She called off her engagement to Jed Wyatt before the finale aired after his secret girlfriend came forward. Then, during the live after-show, Hannah tried to reconcile with runner-up Tyler Cameron. The pair went on one date after that, however, Tyler then started dating supermodel Gigi Hadid. Though Hannah didn't name names during her DWTS segments, Bachelor Nation will definitely have opinions about who, exactly, Hannah was thinking about in that rage room.
Clearly, you don't want to mess with Hannah Beast. Her rage room segment and her dance are proof of that. We'll just have to keep watching DWTS to see what else Hannah has up her sleeve this season.
Photo: Getty
Chat About Hannah Brown Rages Against Her 'Bachelorette' Exes On 'DWTS'