Miley Cyrus Calls Cody Simpson 'Baby,' Shares Snippet Of His New Song
By Hayden Brooks
October 15, 2019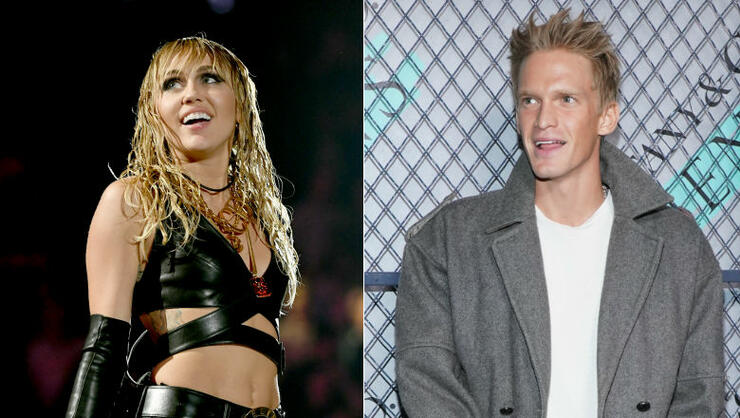 Miley Cyrus is ready to let her romance with Cody Simpson unfold in the form of new music.
On Monday (October 14), the pop titan took to Instagram Story to share some PDA with Simpson, as well as a snippet of his new music. After sharing a photo of the two kissing across a dinner table with a not-so-subtle caption ("Soup is an aphrodisiac), Cyrus unveiled a 30-second clip of a new song by Simpson, which might or might not be inspired by the star. "Crystal dream, Cali queen/ Radiant hand, vibrant sand/ I'm shot/ It's a golden thing she's got" Simpson sings atop an acoustic guitar. "DROP. IT. BABY." she captioned the post. The track, which is seemingly titled "Golden Thing," would mark the Aussie star's first new music since releasing his B-Sides: We Had and B-Sides: Part the Seas EP alongside his band Cody Simpson & The Tide.
Cyrus might have moved on from Liam Hemsworth and Kaitlynn Carter, but her romantic ties with Simpson seems to be part of a new era for her. Earlier this month, she told her fans to get used to her dating, before linking up with Simpson and starting the buzz on her latest romance. Just a few days ago, Simpson spoke with reporters about the budding relationship and admitted that the two have known each other for quite some time. "We both met back in the day when we were partying a lot," Simpson told Us Weekly on Friday. "We had a lot of fun then … but now we've found each other in a space where we're not partying, working real hard and just like [to] keep things healthy."
Chat About Miley Cyrus Calls Cody Simpson 'Baby,' Shares Snippet Of His New Song