CNN Criticized for Debate Question About Ellen DeGeneres
By R.J. Johnson - @rickerthewriter
October 16, 2019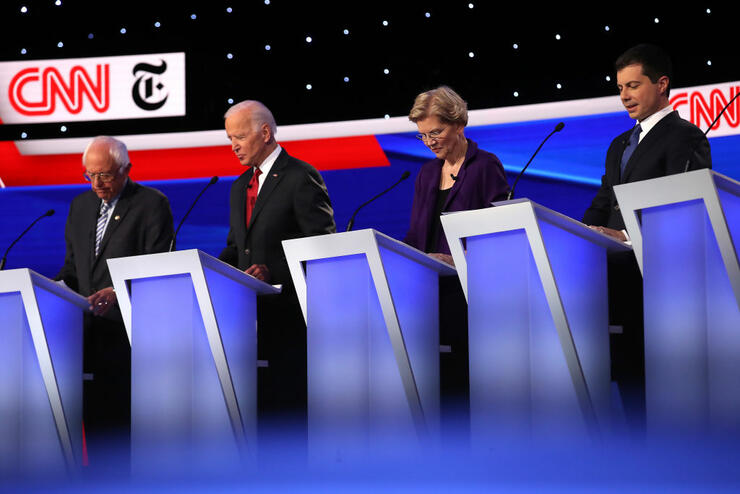 Critics and politicians alike have criticized CNN Wednesday morning after the network hosted the fourth Democratic Debate of the 2020 primary Tuesday evening in Ohio. After three hours of questions from moderators CNN anchors Erin Burnett, Anderson Cooper and New York Times national editor Marc Lacey, that covered the impeachment proceedings against President Donald Trump, automation, jobs, and foreign policy, it was the moderator's final question to the twelve candidates on stage that drove the strongest reactions of the night, with viewers complaining the network had ignored more substantive issues in favor of a silly question.
Moderator Anderson Cooper presented the question to the candidates by raising a recent furor over a photo of Ellen DeGeneres and former President George W. Bush at a football game last week having a good time together. Ellen took heat from critics for having a 'friendly moment' with someone who had spent his career in office trying to set back LGBTQ rights. Candidates were then asked about a friendship that people might find surprising.
"So in that spirit, we'd like you to tell us about a friendship that you've had that would surprise us and what impact it's had on you and your beliefs," Cooper asked.
Reaction from viewers was swift and not at all kind for the network, with many people pointing out the moderators had skipped crucial issues like climate change, China's recent interference in Hong Kong and student loans.
"There are a lot of people I would refuse to be friends with. One of them is whoever decided to end the debate with this Ellen question," one viewer wrote.
"The more I think about last night's debate, the more I realize just how ridiculous it was to pose a question about Ellen and Bush instead of a more serious issue," another one said.
"The last question in a debate in which there have been zero questions about the climate crisis is HAVE YOU HAD A FRIENDSHIP LIKE ELLEN'S FRIENDSHIP WITH GEORGE W BUSH," a third person wrote.
"Oh, sweet Jesus. Having destroyed this debate, Anderson Cooper is now setting the debris on fire. ELLEN DEGENERES???????????????????? Kill me now," another viewer groused.
At least one presidential candidate on stage that night took to Twitter to express his displeasure about the final question of the night.
"Three hours and no questions tonight about climate, housing, or immigration. Climate change is an existential threat. America has a housing crisis. Children are still in cages at our border. But you know, Ellen. #DemocraticDebate" Julián Castro wrote on Twitter following the debate Tuesday night.
The candidates each took about a minute to describe the friendships they'd made, most of whom telling a story about a time when they worked with their Republican colleagues on a bill that both sides wanted to get passed.
Julián Castro was given the first opportunity to answer, saying that some of the most interesting friendships he'd made had been with people different from him.
Castro talked about being kind to other people around you, yet holding them account for what they've done. Hawaii Rep. Tulsi Gabbard said she'd developed several surprising friendships, including her fellow Rep. Trey Gowdy.
"He and I disagree a lot, and very strongly, on a lot of political issues. We've developed a friendship that's based on respect, and he's been there for me during some personally challenging times," Gabbard said.
Each candidate told stories about working with their Republican colleagues. Klobachar recalled her memories of working with Arizona Senator John McCain.
"For me, it's John McCain, and I miss him every day...There is nothing more liberating in life than fighting for a cause larger than yourself. That's what we're doing right now."
Billionaire candidate Tom Steyer cited a woman he knew from Denmark, South Carolina, who was fighting for clean water and environmental justice in her community.
"She's a different gender. She's a different race. She's from a different part of the country, but she reminds me of my parents in terms of her courage and her optimism and her honor," Steyer said.
Former Rep. Beto O'Rourke talked about a trip he'd taken with GOP Rep. Will Hurd after they drove from Texas to Washington D.C. during a snowstorm and how they livestreamed their conversation as they drove across the country.
"A Republican and Democrat finding out what we had in common. By the end of that trip not only had we formed a friendship, but we had formed trust," O'Rourke said.
Entrepreneur Andrew Yang talked about an avid Trump supporter he'd met who had worked as a trucker and spent time in jail. "I'm happy to say that after our ride together, he actually said he would move from Donald Trump to my campaign, which was a thrill for me. And we remained in touch ever since."
California Senator Kamala Harris touted her friendship with her fellow Senator, Rand Paul, who once joined her on a bill to help end the money bail system. While the two of them 'agree on almost nothing' they agreed on that.
"After we joined forces he said to me, 'Kamala, you know, Appalachia love this.' And it really made the point that the vast majority of us have so much more in common than what separates us," Harris said of her partnership with Paul.
Mayor Pete Buttigeig cited the friendships he'd made while serving in the nation's military, saying that the people he served with were radically different from him. "Different generation, different race. Definitely, different politics. And we learned to trust each other with our lives."
Elizabeth Warren talked fondly about her relationship with former Solicitor General Charles Fried, a Republican who'd once helped her get a job, despite the fact the two of them didn't agree on much.
"I was far more liberal than he was. But he also was willing to listen to my work about what's happening to America's middle class. And Charles engaged with it over and over and is the person who made sure I got the job."
Former Vice President Joe Biden also spoke fondly about his time working with Senator John McCain, describing the Arizona senator as a honorable man and "a great man of principle."
Finally, Cory Booker spoke about working with a Republican governor during his time as Mayor of Newark, N.J., a largely very liberal city.
"He and I had to form a friendship, even though I could write a dissertation on our disagreements," Booker said.
Photo: Getty Images
Chat About CNN Criticized for Debate Question About Ellen DeGeneres