Keke Palmer Reveals How She Really Felt After Mike Johnson's Date Offer
By Taylor Fields
October 17, 2019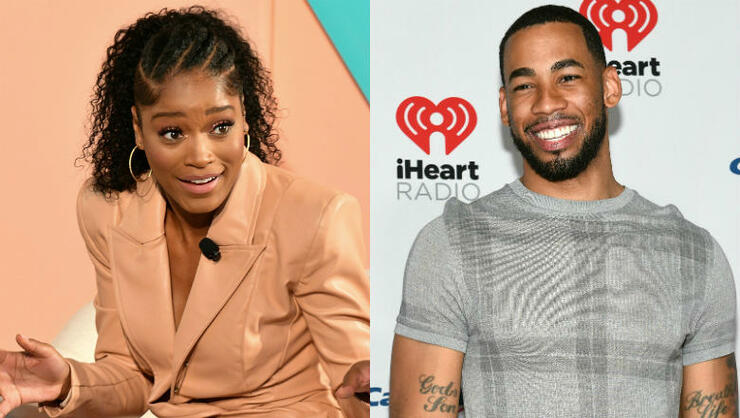 In case you were wondering, Keke Palmer did not take up Bachelor franchise star Mike Johnson on his date offer on live TV.
Here's a little refresher: Mike appeared on Strahan, Sara and Keke this week and was asked about his relationship with Demi Lovato. Not wanting to comment on his dating life publicly, he said, "I made a mistake. I don't like dating in public," followed by this flirty sentiment to Keke: "but if I were to ask you if we could go on a date in the public..."
Caught off-guard, Palmer tried to change the subject by asking her co-hosts Michael Strahan and Sara Haines to ask "the next question."
Since the very public moment on live TV, Keke has now revealed how she really felt in that situation. On the morning show, she was asked if she was going to go on a date with Mike, to which she said "No." She then followed the news up with, "First of all, I get really spooked about, you know, entertainers or reality…I don't know. It really scares me to date people in the industry. That's number one." She added, "Number two, he asked me in front of everybody. I felt totally like no."
Palmer also shared that she felt "ambushed" and like the moment was a "gag," explaining, "I felt like it was a big ol' gag. I felt like I was the gag, I've been duped!"
Johnson has also commented on the situation. On Twitter, he said, "For those with untrue assumptions.. I'm grateful to be in your thoughts... 1. I deflected a question posed to me on my dating life - made a playful comment 2. I love black women too 3. Im happy, those are the vibes."
And during an interview on Barstool Sports' "Chicks In The Office" podcast, he explained, "What had happened was [Palmer] was asking me questions about Demi. I've messed up in the past by speaking publicly about my personal things. So, I vowed not to do that again. She was asking me questions. She had asked me a second question, and I really didn't want to speak on it. So, I did what most people would do in the situation that are good at doing interviews: They flip it."
He also added that he got "the most unfollows ever in one day" that day.
Listen to the full episode on iHeartRadio below.
Chat About Keke Palmer Reveals How She Really Felt After Mike Johnson's Date Offer