Pelosi Uses Photo Trump Tweeted as Cover Image For Her Twitter Account
By R.J. Johnson - @rickerthewriter
October 17, 2019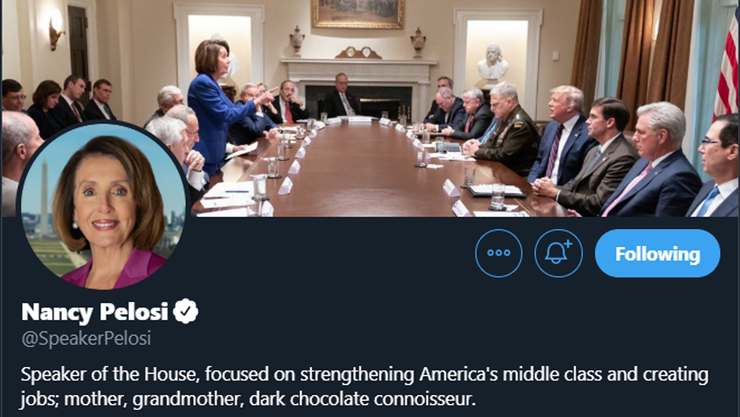 A tense meeting between President Donald Trump and Democratic leaders in Congress about Syria has turned into an argument over a photo of a confrontation between House Speaker Nancy Pelosi and Trump.
Democratic leadership, including House Speaker Nancy Pelosi, and Senate Minority Leader, Chuck Schumer, went to the White House yesterday to meet with Trump after a largely bipartisan vote in the House that overwhelmingly condemned Trump's recent decision to withdraw American troops from Northern Syria. The U.S.'s withdrawal allowed Turkey's military to launch an attack against Kurdish allies in the region, who'd helped support the American mission in the fight against the Islamic State.
Lawmakers in the House voted 354-60 on Wednesday, with every Democrat and more than two-thirds of the Republican caucus supporting the measure denouncing the move by President Trump.
According to multiple reports, the meeting between Trump and Democratic leaders quickly turned acrimonious, with Pelosi and the rest of the Democrats walking out after Trump reportedly called Pelosi a "third-rate politician" and said his former defense secretary, Jim Mattis, was the "world's most overrated general."
As Pelosi and the other Democrats were walking out, Trump reportedly yelled after them, "See you at the polls."
Speaking to reporters following the meeting with Trump, Pelosi said that she thought it was time to "pray for [Trump's] health," characterizing her meeting with Trump as "a very serious meltdown on the part of the president."
Later, Trump attempted to flip the script, tweeting out a photo taken during their confrontation, adding the caption: "Nervous Nancy's unhinged meltdown!"
Pelosi, one of the only women in the photo, didn't seem to mind Trump tweeting it out, as she made it the cover photo for both her Twitter and Facebook accounts.
In a statement, White House press secretary Stephanie Grisham disputed Democrats' depiction of Trump's behavior during the meeting, saying Pelosi had "no intention of listening or contributing to an important meeting on national security issues."
"While Democratic leadership chose to storm out and get in front of the cameras to whine, everyone else in the meeting chose to stay in the room and work on behalf of this country," Grisham said.
"Do you think they like me?" Trump tweeted again, posting a second photo of Democratic leaders in the meeting.