Alice Cooper Made The Perfect Spooky Halloween Playlist
By Taylor Fields
October 21, 2019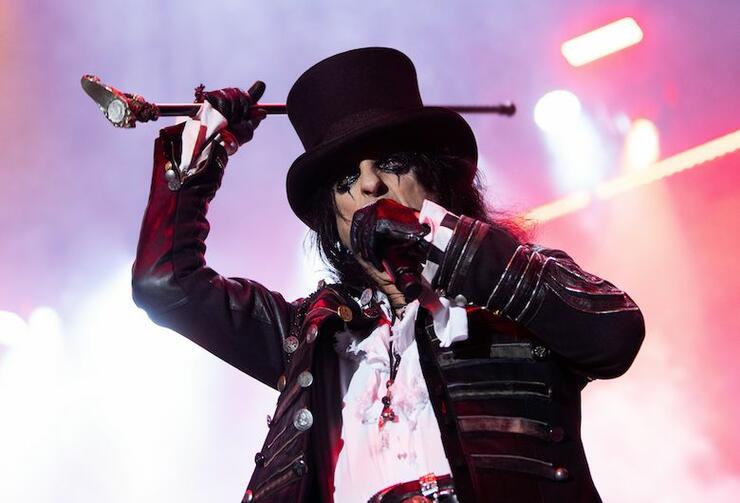 He's a rock star and a Hollywood Vampire, so what better person to curate a Halloween-themed playlist than Alice Cooper? The rock legend, whose shows are often full of spooky stage props and imagery, has curated a spooky playlist on iHeartRadio and it's perfect for Halloween.
Curated By: Alice Cooper includes a number of songs perfect for your Halloween listening needs including Mastodon's "Halloween," AC/DC's "Hells Bells," Marilyn Manson's Nightmare Before Christmas classic "This Is Halloween," Misfits' "Ghouls Night Out," Kiss' "Creatures of the Night" and so much more. The playlist also showcases plenty of songs by Cooper himself including "Teenage Frankenstein," "Welcome to My Nightmare," "I Love the Dead," "He's Back (The Man Behind The Mask)," and Hollywood Vampires' "The Boogieman Surprise."
Just in time for Halloween (and all of the holiday's celebrations), fans can listen to Alice Cooper's new playlist on iHeartRadio for free! Here's how: Beginning October 25th through October 27th, iHeartRadio is handing over the keys to music fans to experience ALL that the app has to offer during All Access FREE Preview Weekend. In other words, experience all the perks of All Access on iHeartRadio ... for FREE. Search and play any song instantly, create unlimited playlists or listen to the hundreds of playlists we've created (including playlists curated by your favorite artists), as well as replay and save songs directly from the radio to your phone, and enjoy unlimited skips. Just open up your app and enjoy!
Alice Cooper also recently announced the 2020 North American dates for his extension of the "Ol' Black Eyes Is Back" Tour with special guest Lita Ford. The additional tour dates follow the release of his Breadcrumbs EP back in September. The six-song set pays homage to some of his rock heroes from his former hometown of Detroit including Bob Seger ("East Side Story"), MC5 ("Sister Anne") and more.
2020 North American "Ol' Black Eyes Is Back" Tour Dates:
April 01 - Peterbrorough, ON @ Memorial Centre
April 03 - Grand Rapids, MI @ DeVos Music Hall
April 05 - Appleton, WI @ Fox Performing Arts Center
April 07 - Omaha, NE @ Orpheum Theatre
April 08 - Davenport, IA @ Adler Theatre
April 10 - Grand Forks, ND @ Alerus Center
April 11 - Winnipeg, MB @ Centennial Concert Hall
April 13 - Regina, SK @ Conexus Arts Centre
April 15 - Edmonton, AB @ Northern Alberta Jubilee Auditorium
April 16 - Prince George, BC @ CN Centre
April 18 - Abbotsford, BC @ Abbotsford Centre
April 19 - Penticton, BC @ South Okanagan Events Centre
April 20 - Seattle, WA @ McCaw Hall
April 22 - Portland, OR @ Keller Auditorium