Bengals: Dalton throws three picks, Mixon and Bernard rush for two yards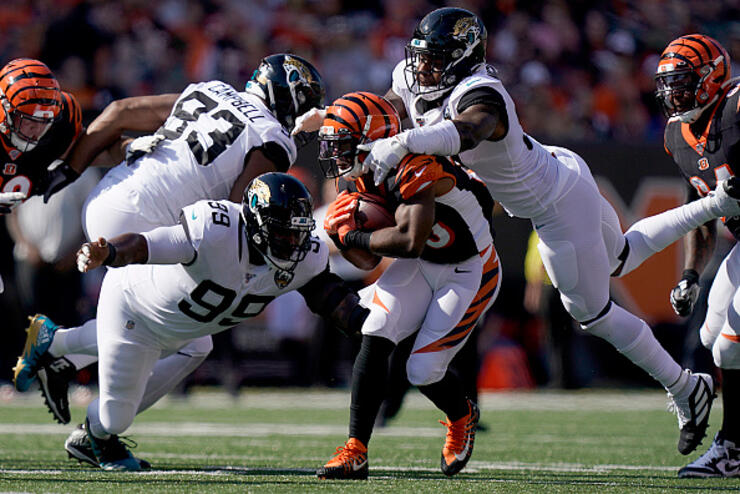 Jaguars 27 Bengals 17
Game book HERE
Let's deal with a positive to start: The Bengals actually led Jacksonville 10-9 headed to the 4th quarter Sunday afternoon at PBS.
The Bengals are 0-7, losers of 14 of 15 and 16 of their last 18. It has been 308 days since they last won a game: December 16, 2018 vs the Raiders.
Andy Dalton threw more interceptions (3) than Joe Mixon and Gio Bernard had combined rushing yards (2).
The Jaguars rushed 44 times for 216 yards (4.9). The Bengals had 20 carries for 33 yards (1.7)....with no yards by RB's.
The Jaguars outgained the Bengals 460-291 and won time of possession: 38:17 to 21:43.
A Jacksonville defense that entered the day with just one forced turnover in 378 snaps, forced four turnovers vs the Bengals.
The Bengals have been out-rushed by opponents this season: 1,323-372.
Offense
Second half drives: Fumble-Punt-FG-INT-Pick 6-INT-TD.
Dalton threw three interceptions in a span of five passes in the 4th quarter, including a red zone pick and a Pick-6. He had 22 completions and 21 incompletions with a QB rating of 50.1. He was 2 of 6 for 17 yards in the 1st quarter and 7 of 16, 112 yards at the half. He scrambled for a big gain on 3rd and 12 after losing his shoe. He scored on a 1-yard run in the closing seconds.
How pathetic was the run game? Mixon rushed 10 times for 2 yards, Bernard 4 times for 0 yards and Alex Erickson 2 carries for -2 yards. Dalton rushed 3 times for all 33 yards on the ground.
Bengals WR had drops throughout the afternoon.....at least 5-7, it seemed.
Tyler Boyd had a brutal day: 2 drops and fumble. He did not have a catch in the first half and caught just 5 of 14 targets.
Alex Erickson: 8 catches/137 yards.....a career best day in catches and yards. He had catches of 12-20-6-27 yards on a TD drive. He should have had more if not for a couple of drops.
Facing 3rd and 1 on the opening drive they ran wide and were stopped for no gain?
The TE group combined for 3 catches for 10 yards on 3 targets.
False starts: Bobby Hart and Alex Redmond.
Defense:
The defense gave up a ton of yards, but battled and held the Jaguars to one TD in six trip into the red zone.
The Bengals allowed 200+ yards rushing for the third consecutive week (216). Preston Brown did have a leaping stop of Leonard Fournette on 4th and 1.
The Jaguars had eight plays of 20+ yards.
Geno Atkins flashed early and produced his best game of the season with two sacks, both coming in the 1st quarter. He was disruptive all day.
B.W. Webb (broken arm) dropped two interceptions thrown right at him. Jacksonville repeatedly picked on Tony McRae.
They allowed a FG in the final 2-minutes of the first half.....the 29th time in the last 39 games (Per Jay Morrison/The Athletic).
Special Teams:
Brandon Wilson provided another spark with a 61-yard return of a kickoff.
Kevin Huber had a big day and got help when Stanley Morgan downed a punt at the three yard line and Erickson downed on at the one-yard line.
Miscellaneous:
Former Bengals 1st rounder Cedric Ogbuehi took 65 snaps for Jacksonville.
Chat About Bengals: Dalton throws three picks, Mixon and Bernard rush for two yards