More than 6,000 Pounds of Frozen Meat Sold at Walmart Recalled
By R.J. Johnson - @rickerthewriter
October 21, 2019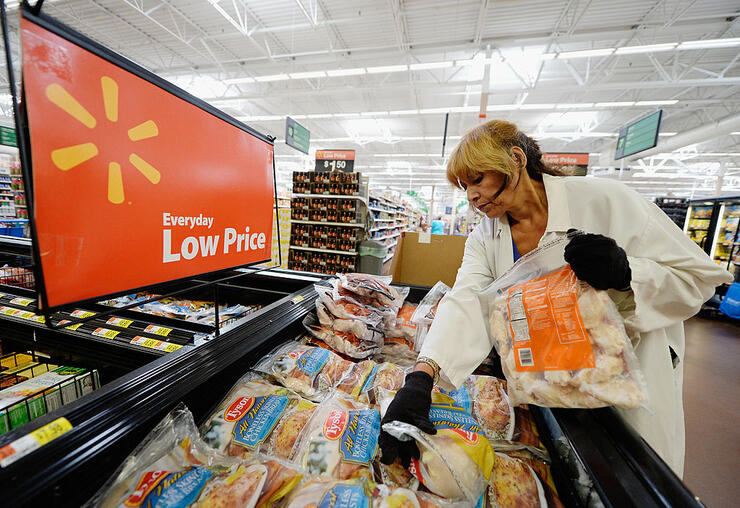 It's time to check your freezers - Walmart is recalling more than 6,400 pounds of their store-branded frozen meats due to a possible salmonella contamination.
According to a release from the US Department of Agriculture's Food Safety and Inspection Service, George's Prepared Foods, the company which creates Walmart's Great Value frozen, fully cooked meat, said the problem was noticed when the firm notified the government agency that a third-party cold storage facity had accidentally shipped the ready-to-eat products to locations nationwide.
So far, there have been no reports of illnesses associated with the consumption of the recalled meats. However, the George's and the USDA are urging consumers who may still have the recalled meats in their freezers to throw them away.
According to the release, the ready-to-eat pork and turkey sausages were produced on April 19, April 27, May 7 and May 9, 2019. The following products are subject to the recall:
Great Value Fully Cooked Original Pork Sausage Patties - 24.92-oz. packages
Use-by Date: 10/16/19
Lot code: 1091971894
Great Value Fully Cooked Original Breakfast Turkey Patties, 24.92-oz. packages
Use-by date: 10/24/19
Lot code: 1171971897
Family Size Great Value Fully Cooked Original Pork Sausage Patties, 35.6-oz
Use-by dates: 11/03/19 and 11/05/19
Lot code: 1271972894 and 1291972894
The packages also bear the establishment number "EST. M2206T or P-2260T"
Eating food contaiminated with salmonella can cause salmonellosis, one of the most common bacterial foodbourne illnesses. According to the Centers for Disease Control and Prevention, symptoms can include diarrhea, abdominal cramps, and fever within 12 to 72 hours after eating the contaminated product. The illness usually lasts 4 to 7 days.
People who find the recalled products in their freezers are being urged to throw them away or returned to the place of purchase. Consumers with any questions about the recall are being urged to contact George's Prepared Foods' Customer Care Line at (800) 471-9665.
Chat About More than 6,000 Pounds of Frozen Meat Sold at Walmart Recalled