Brett Young And Wife Taylor Welcome Baby Girl, Presley Elizabeth
By Blake Taylor
October 24, 2019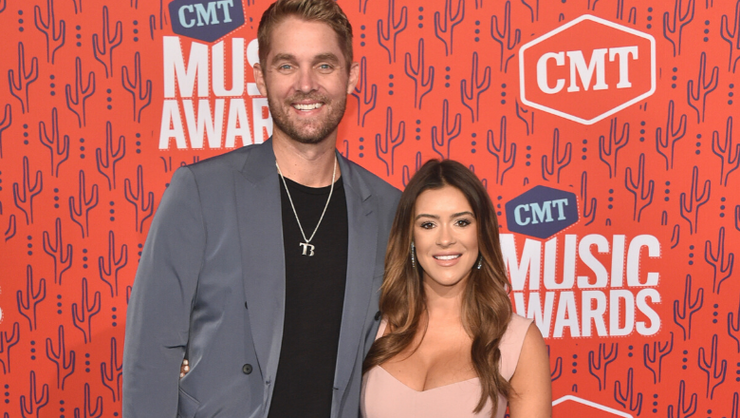 Brett Young and his wife, Taylor, are officially the proud parents of their first child! The couple welcomed their baby girl, Presley Elizabeth Young on Monday, October 21.
People reports that the baby was born at 7:29PM in Nashville, Tennessee and measures 20.75 inches. "We have wanted this for so long and never could we have dreamed of something so beautiful and life-changing," the "Catch" singer shares. "She is perfect and we are forever better because she was given to us."
Young and Taylor tied the knot in November 2018 and three months later on Super Bowl weekend, found out they were expecting. "I was in shock when I read positive. I really just didn't believe what I was seeing," Taylor says.
"After it sunk in, I was so happy and so overwhelmed that I just started crying- happy tears of course! Brett and I hugged, kissed and talked for hours about how long we had been wanting this and how excited we are to become parents."
On Thursday morning (October 24), Young shared a photo to Instagram of his family of three with a heartfelt caption to his wife and baby girl. "Taylor, my wife. You are a superhero. Your beauty and strength never cease to amaze me," he says, adding, "You brought our beautiful girl into this world with a level of grace and quiet confidence that I never knew existed. I'm so impressed by and proud of you. Thank you for this incredible gift. I could not love you more!"
"My daughter, Baby P, you're perfect. I am so head over heels in love with you I can't even explain it. My world is forever changed because God gave you to me," Young continues. "I'm going to do so many things wrong, but I promise to never stop trying, or learning, or loving you as fiercely as is humanly possible. You are my angel, and I will never take for granted the beautiful gift God has given me in trusting me with you. I will always be your rock and your safe place. I am so proud to be your daddy and I am quite certainly the luckiest boy in the world. (Side note, no boys til you're 30)."
Congrats to the happy couple!
Chat About Brett Young And Wife Taylor Welcome Baby Girl, Presley Elizabeth