Billy Idol Says He Got His First Gig In A Band Because He Attracted Women
By Andrew Magnotta @AndrewMagnotta
October 25, 2019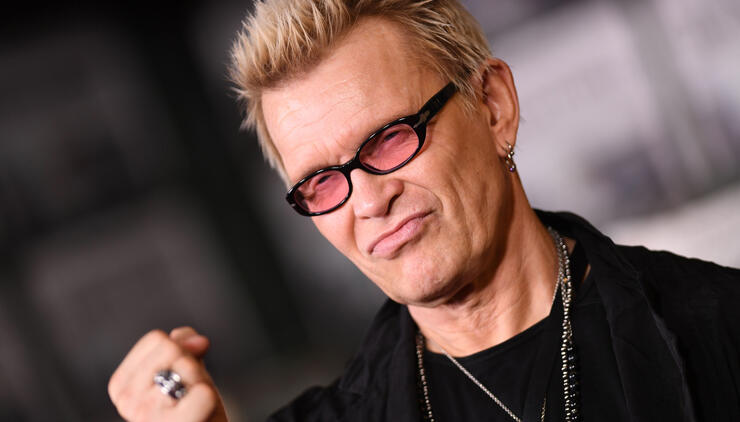 Though admittedly not a pure punk artist, Billy Idol's iconic look will always be associated with the late-'70s London punk scene from which he emerged.
In a recent interview with the Rolling Stone: Music Now podcast, Idol explained how he stumbled onto his aesthetic, and later how he made the switch from being a guitarist in the band Chelsea to being the frontman in Generation X, which led to his eventually breakthrough as a solo artist.
Idol says he was bleaching his hair in order to add blue highlights (he wanted to evoke Elvis Presley's look from the film Blue Hawaii). But the stylist forgot her blue dye, meaning Idol was stuck as a blond for at least a week. He thought the look was interesting and showed up to rehearsal like that.
"Gene October was the lead singer [in Chelsea], and as soon as I walked in the door, he kind of came up and went, 'Your hair! You're not leaving it like that?'" Idol recalled. "I started to say about the whole story ... And he went, ''Cause you can't leave it like that...' And he went on like that so much that ... [I thought] he's got to be worried that I'm super upstaging him. Of course I said to him, 'Yes, I'm gonna dye it back,' but of course I never did, really. Then it became a bit of a trademark."
While Idol's look rubbed some people the wrong way, and it prevented him from being taken seriously in some circles, he says it ultimately helped him get noticed in a way his bandmates in Chelsea and then Generation X appreciated.
"Yeah, I could attract girls," he added. "That was the other thing. Most of the punk rock groups played to — it was all men, virtually, all men, except maybe there was five girls there, or 10. We played to half girls and half guys. There you go. There's one side of it, yeah, you get a little bit slagged off, 'Yeah, he's only getting where's he's getting because he's good-looking or something,' I don't know. But there again, there was other sides to it. In the end, it does come down to songs. When the music's on the radio, people can't see what you look like. In the end, it comes down to whether you're really committed."
Listen to the full conversation via iHeartRadio or in the audio player below.
Photo: Getty Images
Chat About Billy Idol Says He Got His First Gig In A Band Because He Attracted Women