Nick Jonas Groped By Fan During Jonas Brothers Concert
By Peyton Blakemore
October 25, 2019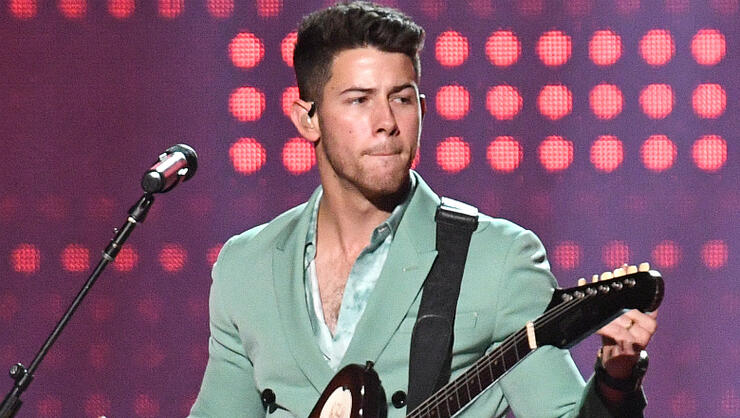 Nick Jonas was groped by a fan at his Los Angeles concert earlier this week, and the disturbing incident was caught on camera.
In the footage, taken during the Jonas Brothers' "Happiness Begins Tour" stop at the Hollywood Bowl, a concert-goer, standing behind Nick, is shown grabbing and rubbing the singer's leg before moving to touch his butt. While a security guard stepped in to stop the fan, the audience member continued to touch Nick inappropriately, which led to the 27-year-old singer swatting her hand away. When that didn't work, Nick eventually turned around and shot her stern look.
In spite of the harassment, Nick continued to perform "Only Human" alongside his brothers, Joe and Kevin Jonas, without missing a beat. See the footage HERE.
It didn't take long for the video to make its rounds on social media as fans called out the fan for her despicable behavior.
"I cant believe I have just watched a video of Nick Jonas getting groped on stage by a fan," a Twitter user wrote. "Security was batting her hands away but the thing that stopped her? Nick batting her hand away from the inside of his thigh and then turning round and glaring at her. How can people think this is acceptable behaviour. If that was me stood next to that girl I'd have batting her hands away myself too."
Another added, "Dear @nickjonas on behalf of the rest of the fandom I really want to apologize for what happened at the Hollywood Bowl. No one should be touched like that without consent, by a stranger. I hope the rest of us can make it up to you by showing what respect is. #happinessbeginstour."
Chat About Nick Jonas Groped By Fan During Jonas Brothers Concert