Taylor Swift & Kelly Clarkson Moved To Tears Over 'Voice' Singer's Story
By Lindsey Smith
October 25, 2019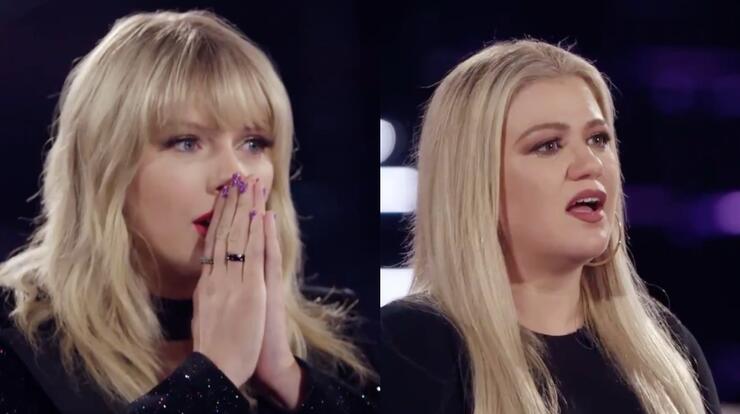 Taylor Swift is serving as a Mega Mentor on Season 17 of The Voice and it's almost time to see her in action. 
Ahead of her first appearance on the show next Monday (October 28), The Voice's Twitter account shared a preview of what fans can expect — and it's going to be an emotional episode!
The 29-year-old singer is helping Voice coach Kelly Clarkson with her contestant Melinda Rodriguez, who was practicing the iconic Mariah Carey song "Always Be My Baby."
The contestant revealed that she chose the song in honor of her brother, Cris, who was going through a heart transplant at the same time she was competing on the hit competition show. She also told the "Lover" singer that her brother is her biggest fan and has all of her album names tattooed on him — she also explained her whole family has a Fearless tattoo.
Once Clarkson asks Rodriguez, "Why are you here?" the contestant made a shocking confession. "He said, 'You can't leave because what if it [the Mega Mentor] is Taylor Swift?'" she explained. 
"Shut up," Swift said in surprise and put her hands to her mouth. The revelation caused both Swift and Clarkson to start crying and embrace Rodriguez in a hug.
In typical Swift fashion, the iconic singer made sure to get an address for Cris to send him gifts while he goes through his heart transplant.
Watch the incredibly emotional clip below and catch The Voice on Monday at 8/7 Central on NBC.
Taylor Swift is performing at this year's iHeartRadio Jingle Ball in New York City, alongside a star-studded lineup. Fans will be able to watch the show on December 13th via an exclusive livestream on The CW App and CWTV.com. The CW Network will also broadcast the event as a nationwide special on Thursday, December 19th at 8pm ET. Fans will also be able to listen to December 13th's festivities across the country on 100 iHeartRadio CHR stations.
Photos: Twitter/The Voice
Chat About Taylor Swift & Kelly Clarkson Moved To Tears Over 'Voice' Singer's Story