Trump's Appearance at Game 5 of the World Series Booed by Fans
By R.J. Johnson - @rickerthewriter
October 28, 2019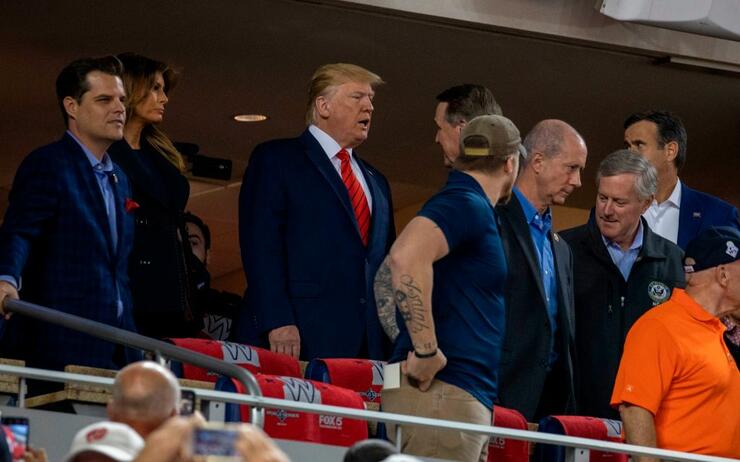 President Donald Trump alongside First Lady Melania Trump attended Game 5 of the World Series on Sunday and was greeted by a less-than-warm reception from the fans attending the game.
Trump and Melania entered the box located left of home plate just as Game 5 kicked off, to little to no fanfare, with only a few fans located in seats near the box spotting him. Then, during the end of the third inning, Trump was introduced to the crowd as the ballpark screens carried images of a salute to American service members who were also attending the game. As the jumbotrons switched to Trump and the rest of his entourage attending the game, the crowd turned, with cheers for the service members turning to boos and heckling from the crowd once Trump appeared on screen.
Several videos posted to social media also captured chants from fans of 'Lock him up!' which harken back to Trump's campaign rallies in which fans of the president would break into chants of 'Lock her up!' about former Secretary of State Hillary Clinton.
Fans were also spotted behind home plate with a sign that read "Veterans for Impeachment" with another banner appearing later in the game that read "Impeach Trump!"
The president and his entourage remained at the game through the seventh inning before heading back to the White House.
Trump made his appearance on the same day he announced the killing of ISIS leader Abu Bakr al-Baghdadi, after U.S. special forces executed a "dangerous and daring nighttime raid" in northern Syria over the weekend in which he got to watch much of it as it happened. The U.S. did not suffer any losses, but a large number of ISIS fighters had been killed along with their leader, Trump said.
The Astros, perhaps buoyed by the president's appearance, took the series lead with a 7-1 victory during Game 5.
Photo: Getty Images
Chat About Trump's Appearance at Game 5 of the World Series Booed by Fans