Lizzo Celebrates Being An Answer On 'Jeopardy!' In The Most Lizzo Way
By Lauren Crawford
October 29, 2019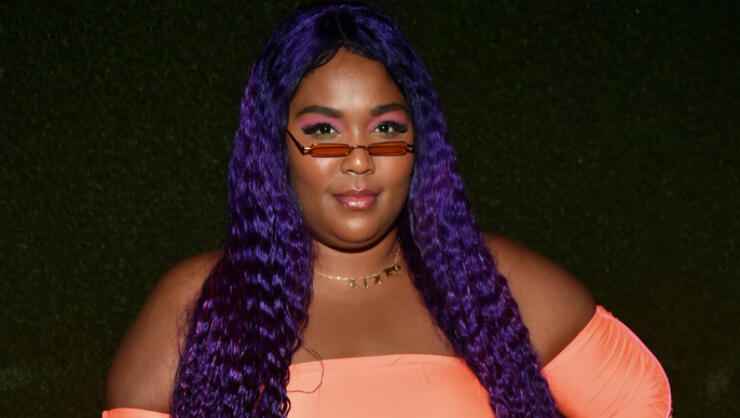 If Lizzo needed another reason to feel like 100% that b*tch, she sure got one on Monday (October 28) when she became a question on Jeopardy!
The "Truth Hurts" singer reacted to the surprise of a lifetime on social media, sharing a clip of the moment on Instagram. "B*TCH B*TCH THIS AINT A DRILL IM A @jeopardy QUESTION MAMAAAAAAAAAAAAAAAAA I MADE IT I LOVE YOU ALEX TREBEK 🤯😱," she captioned the video that showed her as a $600 question.
As for the question that Jeopardy! host Alex Trebek posed to contestant Diana, it was: "In 2019, this 5-letter rap and R&B artist had the "Juice" to be nominated for Best New Artist at the VMAs."
Lizzo's career-defining moment came just days after another career win for the 31-year-old artist as she iconically shut down claims she plagiarized lines from her hit single "Truth Hurts," taking complete ownership of her work.
Taking to Twitter on Wednesday (October 23), the "Juice" rapper explained her side of the story, denying that she stole the song from a previous demo she recorded, and explaining the origins of her famous line, "I just took a DNA test, turns out I'm 100 percent that b*tch," which she was accused of ripping from a tweet by British singer Mina Lioness:
Hey y'all... as I've shared before, in 2017, while working on a demo, I saw a meme that resonated with me, a meme that made me feel like 100% that b*tch. I sang that line in the demo, and I later used the line in Truth Hurts. The men who now claim a piece of Truth Hurts did not help me write any part of the song. They had nothing to do with the line or how I chose to sing it. There was no one in the room when I wrote Truth Hurts, except me, Rickey Reed, and my tears. That song is my life and its words are my truth. I later learned that a tweet inspired the meme. The creator of the tweet is the person I am sharing my success with... not these men. Period. Thank you to everyone who has supported me and my song. Xoxo
Photo: Getty Images
Chat About Lizzo Celebrates Being An Answer On 'Jeopardy!' In The Most Lizzo Way