There's A 'Princess Switch' Sequel In The Works With 3 Vanessa Hudgenses
By Emily Lee
October 30, 2019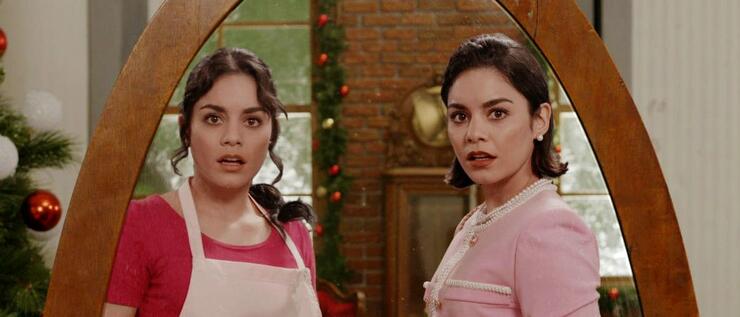 Christmas came early this year! Netflix has finally announced The Princess Switch is getting a sequel almost a year after the holiday rom-com debuted on the streaming platform. For those who haven't watched the delightful film yet, Princess Switch puts a modern spin on classic tale The Prince and the Pauper. Stacy DeNovo is a small business owner and baker from Chicago who, on a trip to the (fictional) European country Belgravia with her business partner Kevin, realizes that she is a doppelgänger for Lady Margaret Delacourt, Duchess of Montenaro (also a fictional country), who is engaged to Crown Prince Edward of Belgravia. Naturally, Stacy and Margaret (both played by Vanessa Hudgens) decide to switch places.
According toThe Hollywood Reporter, the sequel is titled The Princess Switch: Switched Again and will go into production next month for a 2020 release. Apparently, playing two different characters isn't enough of a challenge for Hudgens as the actress will play a third role in the film. In a tweet, Netflix shared some plot details about the next installment. "In the sequel, Duchess Margaret unexpectedly inherits the throne & hits a rough patch with Kevin so it's up to Stacy to save the day before a new lookalike — party girl Fiona — foils their plans."
Mike Rohl will return to direct, with original screenwriters Robin Bernheim and Megan Metzger returning, as well, according to THR. In addition to her three starring roles, Hudgens will also act as producer on the film.
While fans of The Princess Switch hoped for a sequel during the 2019 holiday season, Switched Again likely won't premiere until Christmas 2020. Fans will still get their Hudgens holiday rom-com fix this year, though, as she's starring in Netflix's The Knight Before Christmas. Here's the official synopsis from Netflix:
After a sorceress transports medieval knight Sir Cole (Josh Whitehouse) to present-day Ohio during the holiday season, he befriends Brooke, a clever and kind science teacher who's been disillusioned by love. Brooke helps Sir Cole navigate the modern world and tries to help him discover how to fulfill his mysterious one true quest – the only act that will return him home. But as he and Brooke grow closer, Sir Cole begins to wonder just how much he wants to return to his old life.
Are you excited for The Princess Switch sequel?
Photo: Netflix
Chat About There's A 'Princess Switch' Sequel In The Works With 3 Vanessa Hudgenses