Tim McGraw On The Comment That Led To His 40-Pound Weight Loss
By Blake Taylor
October 30, 2019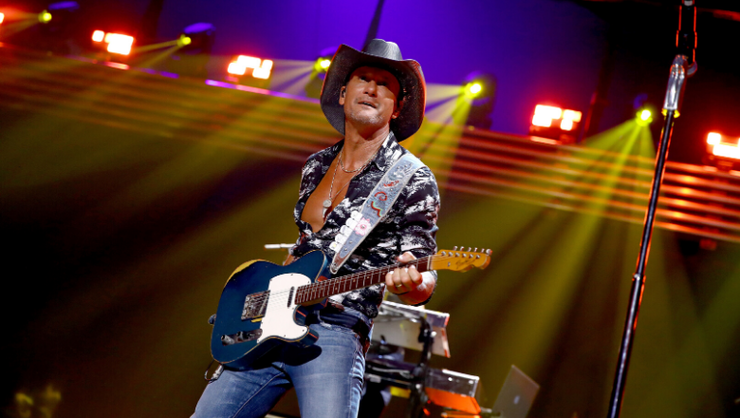 Tim McGraw is looking and feeling better than ever these days!
The 52-year-old country singer recently opened up about his incredible journey to lose 40 pounds and the initial comment made by his daughter, Gracie, who sparked it all.
Back in 2008, McGraw starred in the movie Four Christmases. While watching her father in the movie, the then-11-year-old, Gracie, commented that her dad looked "big on the screen."
Back then, McGraw was around 215 pounds and admits that working out wasn't necessarily a priority for his at that time. "I got out of it [working out] for a while," he shares. "I was in the prime of my career, and I wasn't capitalizing on it."
The one comment from his daughter, was all McGraw needed to make the choice to get back on track with his health. He decided to cut out the burgers and other "truck-stop foods" along with alcohol.
In addition to the adjustment with his diet, McGraw also hit the gym more. He started with daily walks and eventually worked his way up to 20-minutes runs and weightlifting.
Turns out, his exercise routine is not only a benefit for his health but also for his vocal chords. "I use my whole body to sing- my legs, my butt. And having more control over those things makes my voice stronger."
Today, McGraw creates his own 90 minute workout routines which include yoga flows he called Infinity, squats he's named Cheyennes and the sumo-stance squats dubbed Beyoncés.
"This workout is my meditation," he says. "It frees things up in your head so you can get the trash out for a little while."
McGraw credits fitness for improving almost every aspect of his life. "Focusing on my physical health hasn't just made my body healthier, it's made me healthier at every level," he shared on Instagram. "Moving daily and exercising regularly was a pebble that set off a ripple effect, improving the way I eat, sleep, relate to others, and show up both personally and professionally. It made me a better person to be around."
His healthy lifestyle has motivated McGraw to start his own wellness brand, TRUMAV. Additionally, he has a new book, Grit & Grace: Train the Mind, Train the Body, Own Your Life, which comes out November 5.
Take a look into McGraws new lifestyle in the video below as he takes viewers into his Nashville gym and kitchen.