Watch Little Big Town's 'Over Drinking' Video Starring Michelle Monaghan
By Blake Taylor
October 30, 2019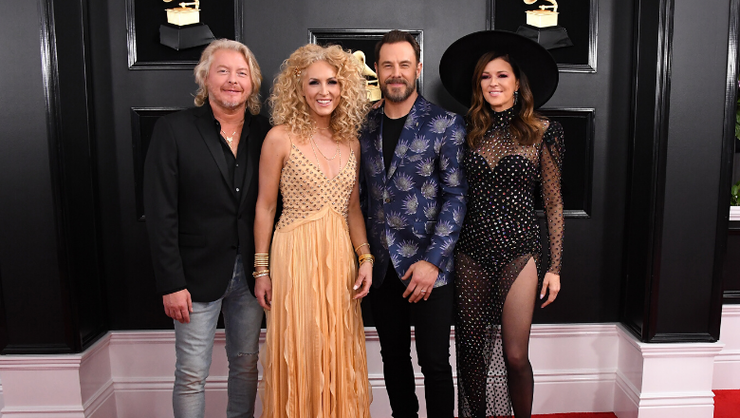 Little Big Town just dropped a '70s-inspired music video for their latest single, "Over Drinking" starring the Mission Impossible actress, Michelle Monaghan. The video was filmed at the Silverados Dance Hall & Saloon in Goodlettsville, Tennessee and features a variety of old-school touches such as a mechanical bull, disco ball, and fringed clothing.
In the clip, directed by the brother-sister duo Stephen and Alexa Kinigopoulos, Monaghan plays a bar back who works under an unfair and controlling owner. It's portrayed that she's saving up money to get out of the town, but the owner continues to try and get in her way. Ultimately, Monaghan's had enough and as the song goes, she is "over drinking, over you."
Meanwhile, Little Big Town- made up of Karen Fairchild, Kimberly Schlapman, Phillip Sweet, and Jimi Westbrook- are seen performing on a small stage at the smokey bar in the clip.
"I'm a country gal at heart and I can't believe I got to make a video with one of my favorite country music bands of all time!!" Monaghan writes on Instagram. "I love you @littlebigtown and I love love LOVE this song!"
"Over Drinking" is featured on Little Big Town's ninth studio album, Nightfall, set for release January 17. "The record feels kind of cinematic to me, but there's also a lot of beautiful intimate moments," Fairchild told The Associated Press. "In a theater, this record is really going to shine."
In support of their new album, the group plans to hit the road next year for the "Nightfall Tour" which will take them to iconic theaters across the country including the Apollo Theater in Harlem, the Chicago Theatre, the Paramount Theatre in Seattle and more. Joining them on the road as a supporting act is the talented Caitlyn Smith. For further details and to purchase tickets to a show go here.
Check out Little Big Town's new music video for "Over Drinking" below.
Chat About Watch Little Big Town's 'Over Drinking' Video Starring Michelle Monaghan