White House National Security Official Testifies About Trump Ukraine Call
By R.J. Johnson - @rickerthewriter
October 30, 2019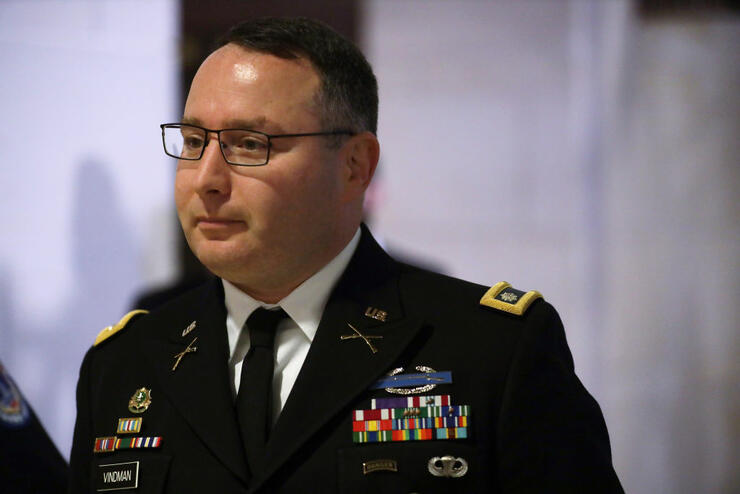 The impeachment inquiry into President Donald Trump took another turn on Tuesday as Army Lt. Col. Alexander Vindman, a top Ukraine expert on the National Security Council, testified in a closed-door hearing before Congress about the July 25th phone call between President Trump and the newly elected president of Ukraine.
Vindman told lawmakers he tried to edit a White House log of a July call between Trump and Ukraine President Volodymyr Zelenskiy to add Trump mentioning possible recordings of former Vice President Joe Biden discussing corruption in Ukraine. Vindman also talked about Zelenskiy mentioning Burisma, the gas company who placed Biden's son, Hunter, on the board, the New York Times reported.
The phone call between Trump and Zelenskiy is at the center of the impeachment inquiry launched by Democrats following a whistleblower's report that critics say show Trump allegedly tried to leverage military aid and a White House visit in exchange for information on the president's political opponent. Following the release of the whistleblower's report, the White House in September, released a 'rough transcript' of the phone conversation between the two world leaders, with officials saying it was a representation of "the notes and recollections of the Situation Room Duty officers and National Security Council policy staff" who are present during official conversations.
It's that transcript that Vindman testified about. The National Security official testified that some of his edits made it into the transcript, but two major corrections he submitted were not made. Vindman did not testify as to the motive on why the edits were not made.
"I did not think it was proper to demand that a foreign government investigate a U.S. citizen, and I was worried about the implications for the U.S. government's support of Ukraine," Vindman's opening statement read.
Photo: Getty Images
Chat About White House National Security Official Testifies About Trump Ukraine Call