Kate Middleton Wants Prince William And Prince Harry To Mend Their Rift
By Emily Lee
October 31, 2019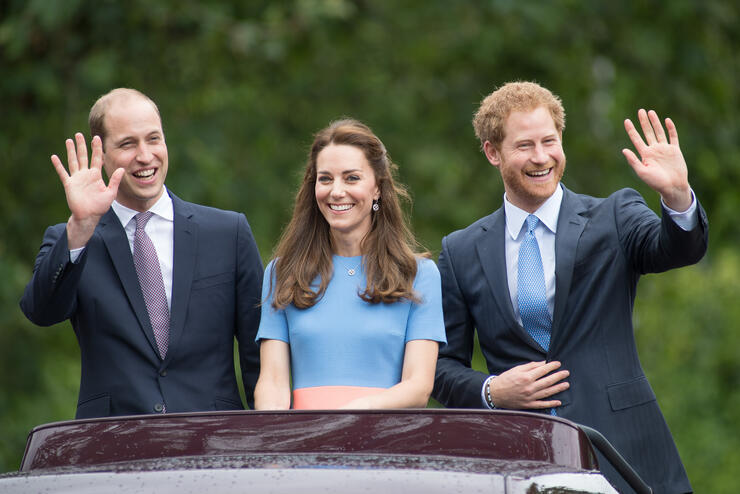 Prince Harry recently confirmed rumors of a rift between him and Prince William. Though he kept his comments pretty vague, the Duke of Sussex said he was on a different path from his brother at the moment. This was heartbreaking news for royal watchers everywhere, of course, but all is not lost for the brothers. It seems like Kate Middleton is determined to help her husband and brother-in-law find their way back into each other's good graces.
According to an Us Weekly source, Kate was deeply effected by Prince Harry and Meghan Markle's recent emotional ITV documentary. The Duchess of Cambridge reportedly "hates seeing" her in-laws "so miserable" and wants thing to improve between all of them behind the scenes. "While Kate's concerned about Harry and Meghan's well-being, she tries to stay out of the drama," the source added.
When it comes to the rift between William and Harry, though, Kate is apparently so over it. Us Weekly's source revealed Kate "hopes William and Harry will eventually heal the rift and let bygones be bygones. The way she sees it, life's too short to make enemies–especially with loved ones. She's very levelheaded like that. Kate's a family girl."
Royal expert and author Phil Dampier spoke to The Express about Kate's determination to bring everybody together, as well. "Behind the scenes, I'm told Kate is doing her best to bring everyone together and help Meghan," Dampier explained. "None of them want to let the Queen down so Kate is trying to patch things up in private. I'm told she has reached out to Meghan and spoken to her on the phone. Kate feels sorry for her and knows that Meghan is struggling."
"Catherine has told Meghan that every royal – including herself –goes through a rough patch with the press but the important thing is to learn by mistakes, move on and get through it," Dampier continued. "It would be a disaster if Harry and Meghan quit and lived abroad – William and Kate would be devastated."
Photo: Getty
Chat About Kate Middleton Wants Prince William And Prince Harry To Mend Their Rift