8 'Friends' Thanksgiving Episodes To Air In Theaters This Month
By Emily Lee
November 1, 2019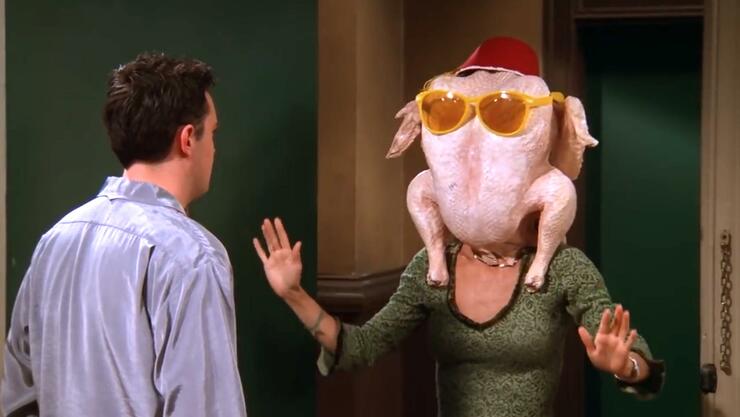 This is definitely something to be thankful for this year. Friends is coming to theaters...again. To celebrate the beloved sitcom's 25th anniversary, Fathom Events aired a bunch of fan favorite episodes in movie theaters across the country. The event was such a success, they're doing it again. This time, though, 8 Thanksgiving-themed episodes will be heading to the big screen.
"Fans showed up in full force for our initial Friends screenings, so we know there is demand for more," Fathom Events CEO Ray Nutt said in a statement. "We're excited to put eight classic episodes on the big screen for fans to celebrate with their friends, just in time for Thanksgiving."
The Thanksgiving celebration will take place over the course of two days: Nov. 24 at 7 p.m. and Nov. 25 at 4 p.m. and 7 p.m. (all local times) in select theaters. Just like with the first event, each day will feature four different episodes that have been remastered in 4K from the original 35mm camera negative, according to Entertainment Weekly.
Here's the full lineup:
Nov. 24
"The One Where Underdog Gets Away"
"The One With The List"
"The One With The Football"
"The One With All The Thanksgivings"
Nov. 25
"The One Where Ross Got High"
"The One Where Chandler Doesn't Like Dogs"
"The One With Rachel's Other Sister"
"The One With The Late Thanksgiving"
Tickets for "Friendsgiving" are available now from Fathom Events and participating theater box offices.
Chat About 8 'Friends' Thanksgiving Episodes To Air In Theaters This Month