Garth Brooks & Blake Shelton's 'Dive Bar' Video Lands Over 26 Million Views
By Blake Taylor
November 1, 2019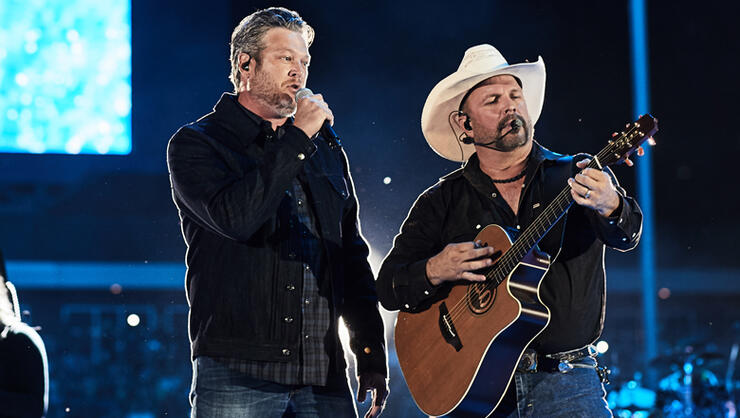 Garth Brooks just released a new music video for his latest single, "Dive Bar" featuring Blake Shelton. This video marks Brooks' first music video in about 12 years and it was sure worth the wait. Released this past Friday, exclusively on Facebook, the video has already accumulated over 26 millions views in 72 hours.
[Purchase Garth Brooks' LEGACY vinyl collection]
The clip shows Brooks and Shelton performing "Dive Bar" "underwater," however, turns out "underwater" is actually Shelton's Ole Red bar and restaurant in Nashville, Tennessee. Adding a bit of humor to the mix, two dancing sharks are also featured in the video.
"I keep saying that this is the most fun I've ever had on a video shoot," Brooks says. "I couldn't stop laughing, just pure joy. The band, crew, Blake...everyone made this one an unforgettable experience. It's been a while since we've done a music video and I hope everyone agrees this one was worth the wait."
The new video comes just a few weeks before Brooks and Shelton are expected to take the stage during the CMA Awards for their first-ever live TV performance of the duet, which was also nominated for a CMA Award for Musical Event of The Year. Be sure to tune in to ABC on November 13 at 8 p.m. ET to watch these two country icons rock Nashville's Bridgestone Arena stage.
[Purchase Garth Brooks' LEGACY vinyl collection]
On Friday, Garth Brooks also released his ground-breaking vinyl collection LEGACY. The exclusive collection is available in three different boxed-sets including the limited edition, original analog edition and digitally remixed/remastered edition. Each edition features five hit albums including 1990's No Fences, 1992's The Chase, 1993's In Pieces, 1995's Fresh Horses and Triple Live, plus CDs with bonus tracks for a total of seven vinyl albums and seven CDs. With Forbes declaring "the legacy box set is more than a purchase, it's an investment," as the boxed set will only be produced once. The special collection has taken over eight months to manufacture in over four different countries with each box being individually hand packed and a limited number of each will be individually numbered.
Purchase the LEGACY vinyl collection here.