LANCO Honored To Join Miranda Lambert's 'Wildcard Tour'
By Lauryn Snapp
November 1, 2019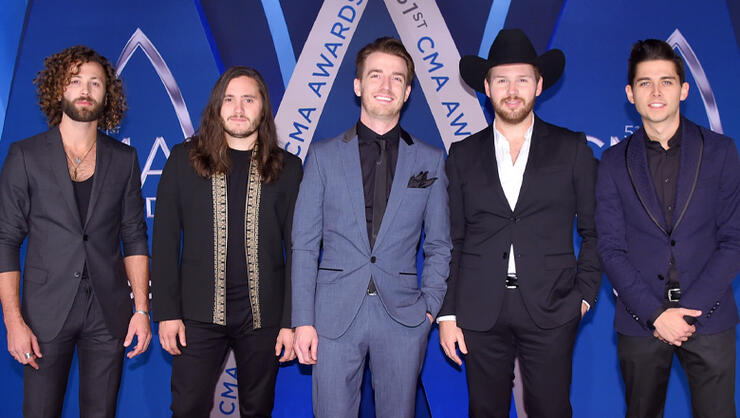 During a recent interview with Cody Alan, Cody pulled out all of the stops (and all of the MICs) to fit all five members of LANCO in his radio studio.
As Brandon Lancaster, Chandler Baldwin, Jared Hampton, Eric Steedly, and Tripp Howell all gathered round the MICs, the topic of Miranda Lambert's 'Wildcard Tour' was brought to the table.
"You're about to go on tour with Miranda Lambert on her 'Wildcard Tour,' so what are you looking forward to most?" asked Cody.
"I have listened to Miranda Lambert forever, like, I have bought tickets to a Miranda Lambert show," shared frontman Brandon. "So, there are those moments on tour where you think, 'I am sharing the stage with a person that I literally have paid a ticket to go see back in the day."
"It's a huge honor, we have always respected her music and her songwriting and the integrity there," Brandon continued. "When someone asks you to go out on tour with them, that's a big deal, and it means there is also respect back your way…so we are just honored."
Listen to LANCO's newest single, "What I See" by clicking below.
RELATED: Miranda Lambert's "Wildcard" Is The Album SHE Needed.
From 'What I See,' LANCO can't get enough of the road. Catch these rising stars stage as they embark on their own headlining tour, 'What I See' which kicks off on January 9 in Kansas. The group will also be joining Miranda Lambert on her 'Wildcard Tour,' commencing January 16 in Tupelo, Mississippi.
Stay up to speed with LANCO by clicking HERE.
Lanco's 2020 'What I See' Tour Dates:
January 9 -- Overland Park, Kan. @ Kanza Hall
 January 10 -- St. Louis, Mo.
 January 11 -- Indianapolis, Ind. @ 8 Second Saloon
 February 13 -- Grand Rapids, Mich. @ The Intersection
 February 14 -- Medina, Ohio @ Thirsty Cowboy
 February 15 -- Columbus, Ohio @ The Bluestone
 March 5 -- Detroit, Mich. @ Andrews Hall
 March 6 -- Bloomington, Ind. @ Bluebird Nightclub
 March 7 -- Cincinnati, Ohio @ Bogarts
 March 11-- Green Bay, Wisc. @ Meyer Theatre
 March 12 -- Minneapolis, Minn. @ The Fillmore
 March 13 -- Rosemont, Ill. @ Joe's Live
 March 14 -- Milwaukee, Wisc. @ The Rave
Photo Credit: Getty Images. 
Chat About LANCO Honored To Join Miranda Lambert's 'Wildcard Tour'