First Public Impeachment Hearings Scheduled to Begin Next Week
By R.J. Johnson - @rickerthewriter
November 6, 2019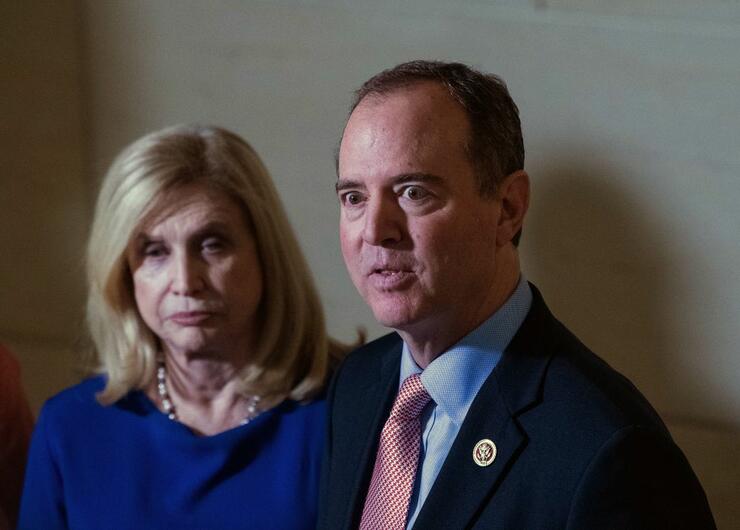 The House Intelligence Committee Chairman, Adam Schiff (D-CA) told reporters on Wednesday that Congress will begin holding public hearings next week in the impeachment inquiry of President Donald Trump.
Schiff said the first open hearing has been scheduled for next Wednesday (Nov. 13), and will feature testimony from American diplomat Ambassador William Taylor, as well as from State Department official George Kent.
"Next week, the House Intelligence Committee will hold its first open hearings as part of the impeachment inquiry," said Intelligence Committee Chairman Adam Schiff on Twitter. 
A second hearing has been scheduled for Friday (Nov. 15) and is expected to feature testimony from the former U.S. Ambassador to Ukraine, Marie Yovanovitch. Both hearings are expected to begin at 10 a.m. ET.
The House is currently on recess until next week.
"These will be the first of the public hearings," Schiff said on Wednesday, telling reporters that open hearings will allow Americans to see the evidence and hear from witnesses so they can "make their own determinations" on whether the president is guilty of the allegations against him.
"The most important facts are largely not being tested," Schiff said. "We are getting an increasing appreciation for just what took place during the course of the last year and the degree to which the President enlisted whole departments of government in the illicit aim of trying to get Ukraine to dig up dirt on a political opponent, as well as further conspiracy theories about the 2016 election that he believed would be beneficial to his re-election campaign."
Earlier this month, Taylor told congressional investigators in a closed-door hearing that a White House meeting between Trump and Ukraine President Volodymyr Zelensky would only happen if he agreed to investigate the family of the president's political rivals. Kent, a State Department official who oversees European and Eurasian policy, also told Congress that he raised red flags about Trump's personal attorney, Rudy Giuliani and the effect he was having on diplomacy with Ukraine.
Democrats in the House formalized the impeachment inquiry against President Trump on Oct. 31, following a whistleblower complaint that alleged the president was leveraging military aid to Ukraine and a White House visit to demands by Trump that Ukraine open an investigation into former vice president Joe Biden's son, Hunter and into the 2016 election.
Trump has repeatedly denied the allegations against him.
Photo: Getty Images