Chip And Joanna Gaines Reveal Joanna Will Host Her Own Cooking Show
By Emily Lee
November 8, 2019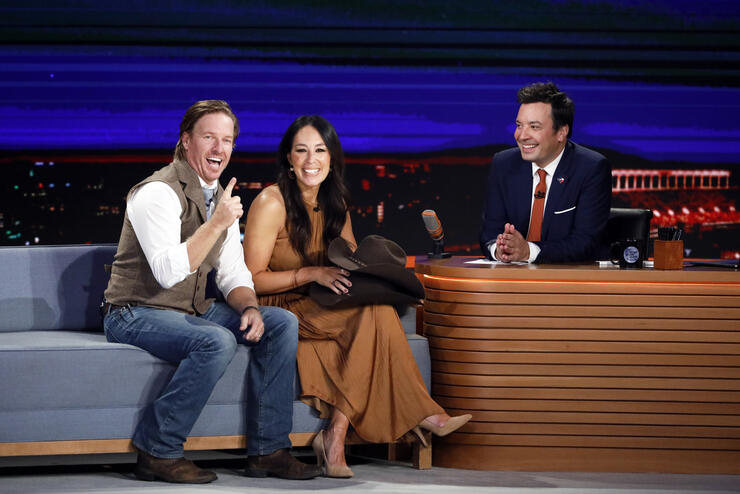 Joanna Gaines is coming back to TV! With a little help from her husband, Chip Gaines, and Jimmy Fallon, Joanna announced she'll be hosting her very own cooking show on their upcoming Magnolia TV Network. Fans of Fixer Upper have been wondering when Chip and Joanna would return to TV for a while now. Though Chip won't be joining Joanna as host, he'll be involved behind-the-scenes as an executive and co-creator of the Magnolia TV network.
Chip and Joanna made the big announcement during an appearance on The Tonight Show. Speaking with the host about their upcoming TV network, Joanna said: "It's a lot of work, but we're knee-deep in it right now, and I think what we love is just the idea of just finding amazing stories, people who are passionate about what they do, whether it's cooking, design, business. We're excited. This is a lot of fun and a lot of work."
Jimmy jumped in then to suggest Joanna host a cooking show. "I don't wanna tell you how to do your network, but I would do a cooking show if I were you," he said before referencing her successful cookbook Magnolia Table. After a bit of teasing Joanna finally confirmed that they are developing a cooking series with her as host. She'll be joined by special guests each episode, as well.
Not only does Joanna have a cooking show in the works, she's also got a second cookbook coming out in 2020. "My hope with this cookbook is that it really encourages and inspires people to experiment in their kitchen and to get after it," Joanna said about Magnolia Table Volume 2 "For me I've failed multiple times but in those failings, I've learned so much and it just kept me coming back. I never wanted to quit."
"At the end of the day, it's really about gathering your friends and family around the table," she continued. "It's those moments that make working in the kitchen worth it, every time."
Are you excited for all of Joanna's cooking projects?
Photo: Getty