Here's When 'A Charlie Brown Thanksgiving' Is Airing On TV This Month
By Emily Lee
November 8, 2019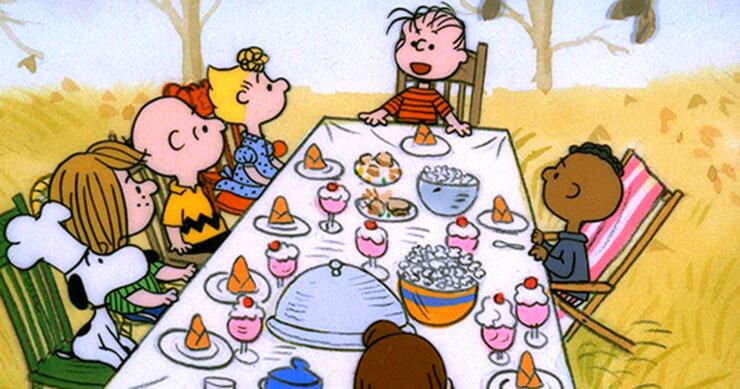 Watching A Charlie Brown Thanksgiving is definitely one of the best parts of the holiday season. If you don't have your own copy (or even a vintage VHS!) to watch Thanksgiving special, don't worry. Just like it does every year, A Charlie Brown Thanksgiving will be airing on TV. Here's when and where you can watch it.
A Charlie Brown Thanksgiving will be airing on Wednesday (November 27) at 8 p.m. ET on ABC, aka Thanksgiving Ever. Can you think of a better way to relax the night before the big (and busy) day? Charlie Brown fans are in luck, too, because This Is America, Charlie Brown: The Mayflower Voyagers will air right after A Charlie Brown Thanksgiving at 8:30 p.m.
A Charlie Brown Thanksgiving originally aired on CBS back in November 1973, and even won an Emmy Award the following year. The tenth Charlie Brown short film follows the titular character as tries to prepare a last minute Thanksgiving feast for his friends. When things don't go as planned, the gang learns the true meaning of the holiday.
On Tuesday, Dec. 5, fans can watch A Charlie Brown Christmas at 8 p.m. on ABC, as well. A few weeks later, I Want A Dog For Christmas, Charlie Brown will air on Sunday, Dec. 22 and on Thursday, Dec. 26 at 8 p.m., Happy New Year, Charlie Brown will also air on ABC.
Photo: ABC