Luke Combs Duets With His Hero Eric Church On New Song 'Does To Me'
By Blake Taylor
November 8, 2019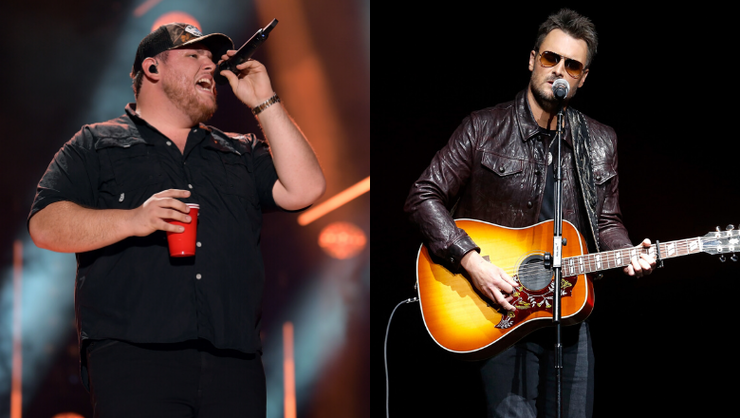 Luke Combs released his highly anticipated album, What You See Is What You Get featuring an epic collaboration with his hero Eric Church on "Does To Me." The new song, written by Combs himself alongside Ray Fulcher and Tyler Reeve, is about run-of-the-mill things that might not seem exciting to anyone but you.
"There's a worn-out blade that my Granddaddy gave me / My Mama's first Bible, Daddy's Don Williams vinyl / That first-fish-catching Zebco thirty-three / Well, that might not mean much to you / But it does to me," Church sings.
The "Does To Me" duet is being compared to Church's 2006 collaboration with his hero, Merle Haggard on "Pledge Allegiance To The Hag."
"I definitely, definitely thought the exact same thing when I was having this idea," Combs says of the comparison per Rolling Stone. He goes on to detail how the collaboration came about saying, "I had [my co-manager Chris] Kappy reach out to Eric's manager and say, 'Hey, if this is something Eric would want to do, that would be great,' but I don't want him to do it unless he thinks it's something he would like. A couple months later, we got a date on the books and his vocal was the last thing we got for the record. It's awesome."
Having Church on his album is a full circle moment for the "Beautiful Crazy" singer. Prior to fame, he once bought a signature Eric Church guitar and while doing so, he told the merch guy he'd see him on tour with Church. Years later, Church appears on his album and the two have since played multiple festivals together.
Both Church and Combs are expected to perform next week at the 2019 CMA Awards. Additionally both artists are going into the night with several nominations. Church is up for Album of the Year for Desperate Man, Music Video of the Year for "Some Of It" and the night's biggest honor Entertainer of the Year. Combs receive nominations for Male Vocalist of the Year, Song of the Year for "Beautiful Crazy" and Musical Event of the Year for "Brand New Man" with Brooks & Dunn.
The 53rd Annual CMA Awards will air live from Nashville's Bridgestone Arena on November 13 at 8 p.m. ET.