Kelsea Ballerini Stays In For A Night With The Girls In New 'Club' Video
By Blake Taylor
November 11, 2019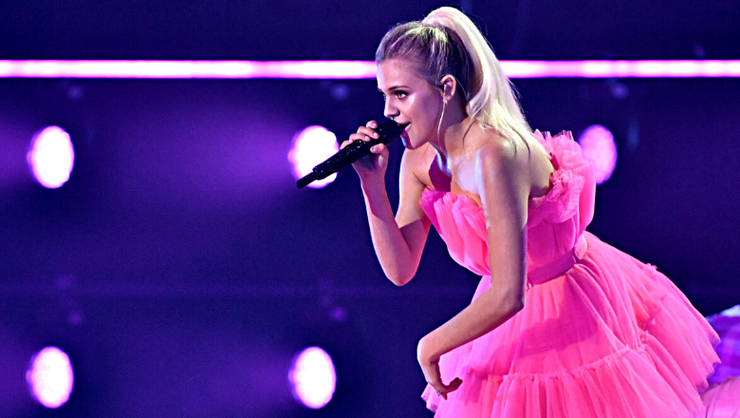 Kelsea Ballerini is showing fans what her ideal girls' night looks like in her new "Club" music video.
The video shows Ballerini and her friends in a disco-ball-lit hotel room jumping on the bed, taking shots, singing karaoke and dancing all around. Eventually the girls make their way to an outdoor swimming pool where they all jump in fully-clothed.
"Club," released on Friday (November 8), was written by Ballerini herself alongside Jimmy Robbins and Nicole Galyon. In the new track, Ballerini says that although she loves tequila, dancing and dressing up, she's not a fan of going out to the clubs. She references the club culture which typically includes people drinking too much, saying and doing things they don't mean, and trying to hookup.
The song starts with Ballerini singing about the part of going out that she does like. "Yeah I like my friends / yeah, I like tequila / I like puttin' on a dress and dancin' with my feelings," she sings.
Following the first verse Ballerini dives into her reasons why the clubs aren't worth it. "I don't wanna go to the club / I don't wanna watch everybody around me try to hook up / And say stuff they don't mean / And get drunk and get cheap / So what's wrong with me? / 'Cause I don't wanna go to the club," she sings in the chorus.
Club" follows up Ballerini's previously released heartfelt single, "homecoming queen?" The emotional track was the first glimpse at Ballerini's forthcoming album tentatively expected to drop in 2020.
Ballerini is expected to perform at the 2019 CMA Awards on Wednesday, November 13. The country singer will be a part of a special female power packed performance with Lindsay Ell, Maddie & Tae, Ashley McBryde, Carly Pearce and Runaway June. The ladies will all join together for an "iconic performance of an iconic CMA Song of the Year and CMA Single of the Year featuring a special appearance by Little Big Town. This is expected to be one of the "night's most talked-about performances."
Additionally, Ballerini is nominated for Female Vocalist of the Year. Fans can tune into ABC on Wednesday, November 13 at 8 p.m. ET to catch the 53rd Annual CMA Awards live from Bridgestone Arena.