Tyler The Creator Defends Drake After He Was Booed Offstage At His Festival
By Peyton Blakemore
November 11, 2019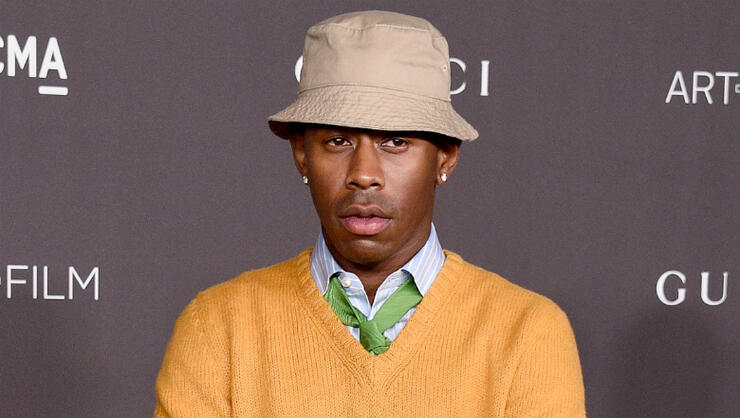 Tyler, The Creator is not happy with the way attendees at his annual Camp Flog Gnaw festival conducted themselves over the weekend.
On Monday (November 11), the "EARFQUAKE" artist took to Twitter to address how attendees boo'ed Drake off the stage during the "Money In The Grave" rapper's surprise set on Sunday (November 10) in a series of tweets:
I THOUGHT BRINGING ONE OF THE BIGGEST ARTIST ON THE F**KING PLANET TO A MUSIC FESTIVAL WAS FIRE! BUT FLIPSIDE, A LIL TONE DEAF KNOWING THE SPECIFIC CROWD IT DREW. SOME CREATED A NARRATIVE IN THEIR HEAD AND ACTED OUT LIKE A**HOLES WHEN IT DIDNT COME TRUE AND I DONT F**K WITH THAT
THIS NI**A DID FEEL NO WAYS! SONG IS BEAUTIFUL. ALSO, MOSTLY EVERYONE WAS HAVING A GREAT TIME, THOSE SH*TS IN THE FRONT AREA WERE THE ONES BEING MAD RUDE, WHICH, I CAN SEE WHY, BUT, NAH, F**K THAT, YALL REPRESENTED ME AND FLOG TO MY GUEST AND MADE US LOOK SOOO ENTITLED AND TRASH
THAT SH*T WAS LIKE MOB MENTALITY AND CANCEL CULTURE IN REAL LIFE AND I THINK THAT SH*T IS F**KING TRASH
As previously reported, shortly after the Drake took the stage at Dodger Stadium in Los Angeles, he was booed right off it because the crowd was hoping to see Frank Ocean. Since the headliner for the festival was not announced before Sunday's show, and the lineup reflects Tyler's personal taste in music, many believed, in fact, they were certain that Frank was going to be the top act. So when it wasn't him, they didn't hide their disappointment.
"Make some noise for yourself tonight," Drake told the audience in the middle of his song "Wu-Tang Forever."
"I'm here for you tonight," he continued. "If you want to keep going, I will keep going. What's up?"
To his surprise, the bitter crowd began loudly booing. "If you want me to keep going," Drake said again, "I will keep going tonight." Unfortunately, the crowd didn't let up. The boos got louder and people started screaming "No." So, with that clear response, Drake wasted no time exiting the stage. "It's been love. I love y'all. I go by the name of Drake. Thank you for having me," he said visibly disappointed while walking off stage.
Tyler also defended Drake's setlist, explaining that he did "album cuts" just for him:
LIKE, I LOVE [Wu-Tang Forever] AND THOUGHT THAT WOULD NEVER HAPPEN.......HE REALLY DID THAT FOR ME AND I APPRECIATE IT BECAUSE HE DID NOT HAVE TO COME AT ALL, SEE OUR WORLDS COME TOGETHER WAS SO GREAT IN THEORY
BUT HEY MAN SH*T HAPPENS, ALL JOKES ASIDE SH*T LOWKEY FUNNY HAHAHA, ASIDE FROM THAT, HOPE EVERYONE HAD A GOOD TIME. AGAIN, NO ARREST NO BULLSH*T MAN A LOT OF PEOPLE ENJOYED IT, THANKS AGAIN!
AGAIN, THANK YOU DRAKE! ( IM F**KING PISSED HOTLINE BLING WAS NEXT THATS MY F**KING SH*T IM GONNA PLAY THAT IN THE SHOWER RIGHT NOW) <3
OK LAST TWEET, I WAS IN THE FRONT, AND I HEAR "TYLLLERRRR!" AND I LOOK TO MY LEFT, AND THIS GIRL, RED FACE, PUFFY, WATERFALL OF TEARS LOOKED INTO MY SOUL AND SAID, TREMBLING WITH ANGER "...WHAT ..THE ..F**K!.........IS THIS SH*T!" NI**A I TURNED AWAY SO QUICK SHE WAS PISSED BRO
THAT SH*T WAS NOT COOL DAWG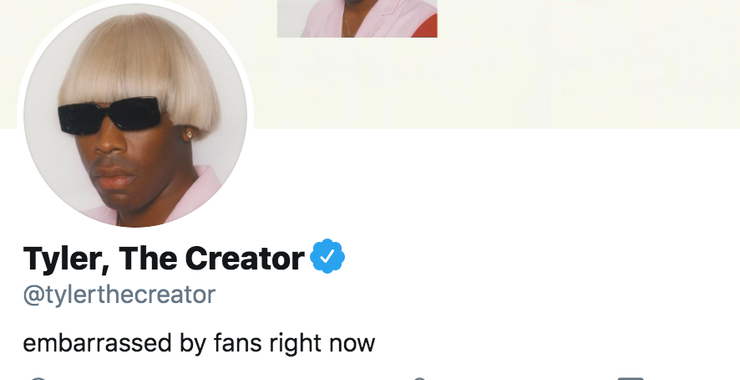 Tyler additionally changed his Twitter bio to read: "embarrassed by fans right now."
Here's a video from Camp Flog Gnaw.

Drake: "I'm here for you tonight. If you want to keep going, I will keep going. What's up?"

Some fans boo loudly. One yells "No!"

Drake seemingly cuts his set short & ends the show there. "It's been love."pic.twitter.com/n1BYrvLThc

— Andrés Tardio ✍🏽 📷 (@AndresWrites) November 11, 2019
Video of the booing incident has since gone viral, with many fans condemning the "ungrateful" crowd for their "rude" behavior. However, Drake is reportedly taking the whole booing incident in stride. DJ Akademiks tweeted Monday morning that he spoke to the 33-year-old rapper, who told him that the performance was a "moment of humility which is always welcomed." The "God's Plan" rapper added, it "was just not my night. Wasn't who they wanted to see."
Photo: Getty Images