Former President Jimmy Carter 'Recovering' Following Brain Surgery
By R.J. Johnson - @rickerthewriter
November 12, 2019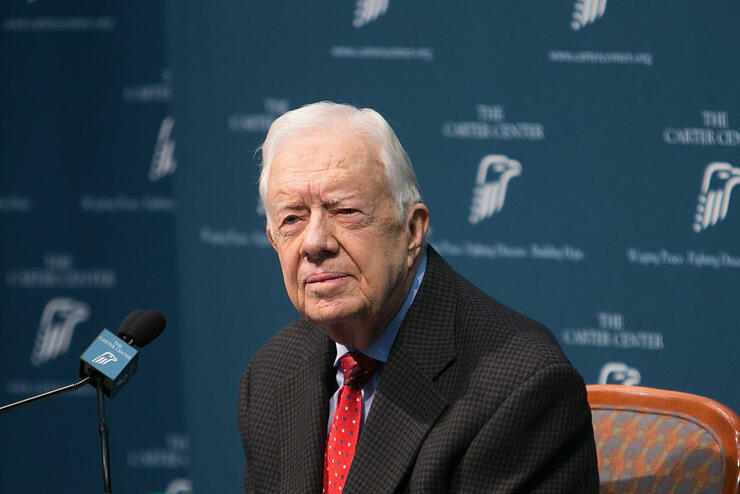 Former President Jimmy Carter is in the hospital after he was admitted to undergo a procedure to relieve pressure on his brain, caused by bleeding related to his recent falls, a spokesperson said.
Carter, 95, checked into Emory University Hospital in Atlanta Monday evening ahead of the procedure Tuesday morning. A spokesperson said that the president is "resting comfortably, and his wife, Rosalynn, is with him."
According to a spokesperson, the former president successfully underwent the surgery to relieve pressure from a subdural hematoma, and is currently recovering at the hospital. The statement said there were "no complications from the surgery" and that Carter would remain in the hospital "as long as advisable for observation."
The former president had to be hospitalized last month after fracturing his pelvis at his home in Plains, Georgia. It was the latest injury suffered by the nation's 39th president, after he previously had to get stitches above his brow after falling at his home again on Oct. 6. In May, Carter underwent surgery after falling and breaking his hip while he was about to go turkey hunting.
Carter made headlines earlier this month after he told a crowd of Sunday church-goers that he was "at ease with death" and had been for several years after he was diagnosed with cancer in 2015.
"I, obviously, prayed about it. I didn't ask God to let me live, but I just asked God to give me a proper attitude toward death. And I found that I was absolutely and completely at ease with death. It didn't really matter to me whether I died or lived," Carter said, according to the Church's Facebook Live video of the former president's sermon. "I have, since that time, been absolutely confident that my Christian faith includes complete confidence in life after death.
"So, I'm going to live again after I die. Don't know what form I'll take, or anything."
Carter was elected president in 1976, serving only one term before losing to Ronald Reagan in 1980. The former president used his time after leaving office to work for charitable causes, such as Habitat for Humanity, hurricane relief and the Carter Center, which has dedicated itself to the elimination of the Guinea worm disease.
Photo: Getty Images