Gibson Donates 48 Guitars, Thousands Of Strings To Veterans
By Andrew Magnotta @AndrewMagnotta
November 12, 2019
Gibson celebrated Veterans Day this week by donating 48 guitars and 19,000 sets of strings to the Guitars for Vets organization.
The legendary guitar brand personally presented guitars to three veterans in an event held Monday at the company's Nashville Custom Shop.
Guitars for Vets co-founder Patrick Nettesheim explained that music provides an essential outlet for veterans struggling with PTSD and other war-related traumas.
"When I started Guitars for Vets, it was 18 suicides per day," Nettesheim said. "It's getting worse, but it's my beliefe we're making progress and we hear this through testimonials all the time, 'This guitar saved my life!' It's a great fit to be with the Gibson Foundation because they're about supporting and creating musicians.
Nettesheim explained that Guitars for Vets has over 400 volunteers and 110 chapters in 43 states. The organization provides private guitar lessons to veterans. When vets "graduate" from the lesson program, they're given a brand-new acoustic guitar.
Godsmack frontman Sully Erna was also present at the event.
"It's an honor to be part of this presentation to our veterans here at the iconic Gibson Custom Shop," said the singer. "Thanks to our veterans and everything they have done for our country."
Gibson's donation included more than a dozen Custom Shop Les Pauls and more than 30 Epiphone Acoustic Masterbuilt guitars.
This summer, Gibson announced plans to give away one guitar every day for then next 1,000 days.
Photo: Getty Images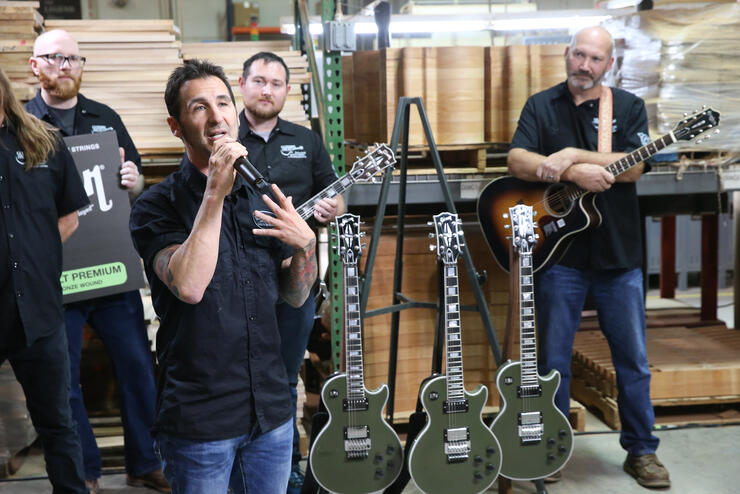 Chat About Gibson Donates 48 Guitars, Thousands Of Strings To Veterans