Pink & Chris Stapleton Team Up For 'Love Me Anyway' Collab At 2019 CMAs
By Hayden Brooks
November 14, 2019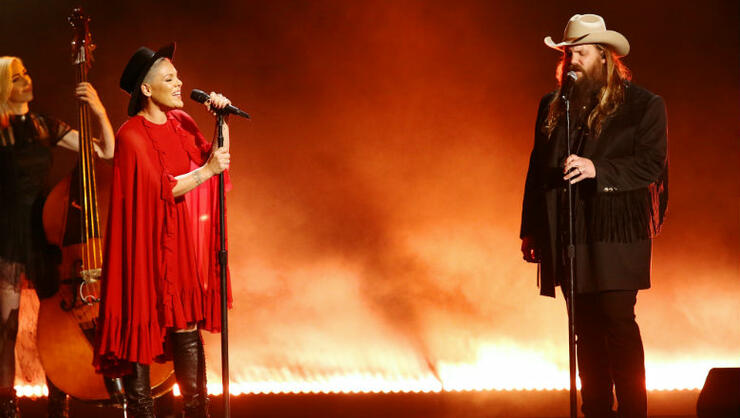 Fresh off her Champion honor at the People's Choice Awards, Pink appeared at the 53rd Annual Country Music Association Awards on Wednesday night (November 13) for a tender performance of her Chris Stapleton collaboration, "Love Me Anyway."
During the number, the pair took to the stage to sing the Sal Oliveri-produced ballad off the pop star's latest album, Hurts 2B Human, with a string section backing. "Is it for better or for worse, or am I just your good time girl?/ Can you still hold me when it hurts, or would you walk away?/ Even if I scandalize you, cut you down and criticize you/ Tell a million lies about you, what would you say?" the two crooned on the second verse. The duo previously performed the single during the New York City stop of her "Beautiful Trauma World Tour" in May.
Pink's showing at the country ceremony follows her 2017 appearance at the award show, where she offered up a solo rendition of her Beautiful Trauma cut, "Barbies." Still, this performance felt fitting, considering the 2019 female-driven initiative, which is partially credited to host Carrie Underwood. "When we started talking about the CMAs this year, thinking about what theme we might have...I definitely was kind of pushing for a tribute to females in country music," the former American Idol champ recently told ABC. "I feel like right now, this year in country music, a lot of us have decided to put our money where our mouth is. I feel like we've been talking about needing more of a presence of women in country music."
Meanwhile, Stapleton's appearance at the ceremony also saw him compete in categories like Entertainer of the Year, Male Vocalist of the Year and Single of the Year for his song "Millionaire." Back in 2018, he earned the most awards of the evening, snagging titles for Song of the Year and Single of the Year for "Broken Halos," as well as the Male Vocalist of the Year title.
Chat About Pink & Chris Stapleton Team Up For 'Love Me Anyway' Collab At 2019 CMAs