Sarah Hyland Gets Dragged For Posting Photo Of Her Fiance Groping Her
By Dave Basner
November 12, 2019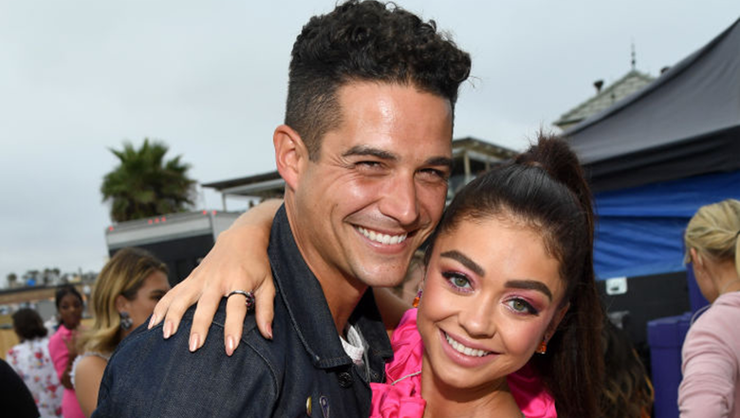 Sarah Hyland shares a lot about her life on social media, so she is no stranger to the relentless shaming that comes from even the most innocent of photos, and once again she is facing that backlash. This time, it's for a pic the Modern Family actress posted from a wedding photo booth. She captioned the shot, "We take wedding photo booths very seriously... #mcm to the men who love and treat their ladies like queens..." It shows Sarah with her fiance, Wells Adams, along with two other couples. Sarah's posing with her tongue out making a goofy face while Wells has his hand on her right breast. Wells' friend, actor Matt Shively, is also jokingly groping his date in the pic.
It's clearly just a silly picture, but the trolls had a lot to say about it. Many took issue with Sarah saying the men were treating the women like queens. They wrote things like, "Like queens = like objects? The dissolution of patriarchal gender relations can't come soon enough," and "This just sends the wrong message," and, "In times of gender balance and women's rights and respect, we still see pics like this... we are not moving forward with such mentalities."
Thankfully, Sarah's fans had her back and set the haters straight. They responded with comments like, "Do you even know what the #MeToo campaign was about? These women are consenting to this photo. Know the difference," and, "You all realize this is her fiancé right? There's an extremely large difference between your fiancé grabbing your boob for a photobooth pic in a lighthearted and CONSENSUAL way - and a man treating a woman like 'an object.'"
Sarah doesn't seem to be bothered by the trolls and has been posting more since sharing the pic. Her latest shows her and Wells on the red carpet at the People's Choice Awards. You can follow her here.
Photo: Getty Images