Diplomats Reveal New Details In First Public Impeachment Hearing
By Bill Galluccio
November 13, 2019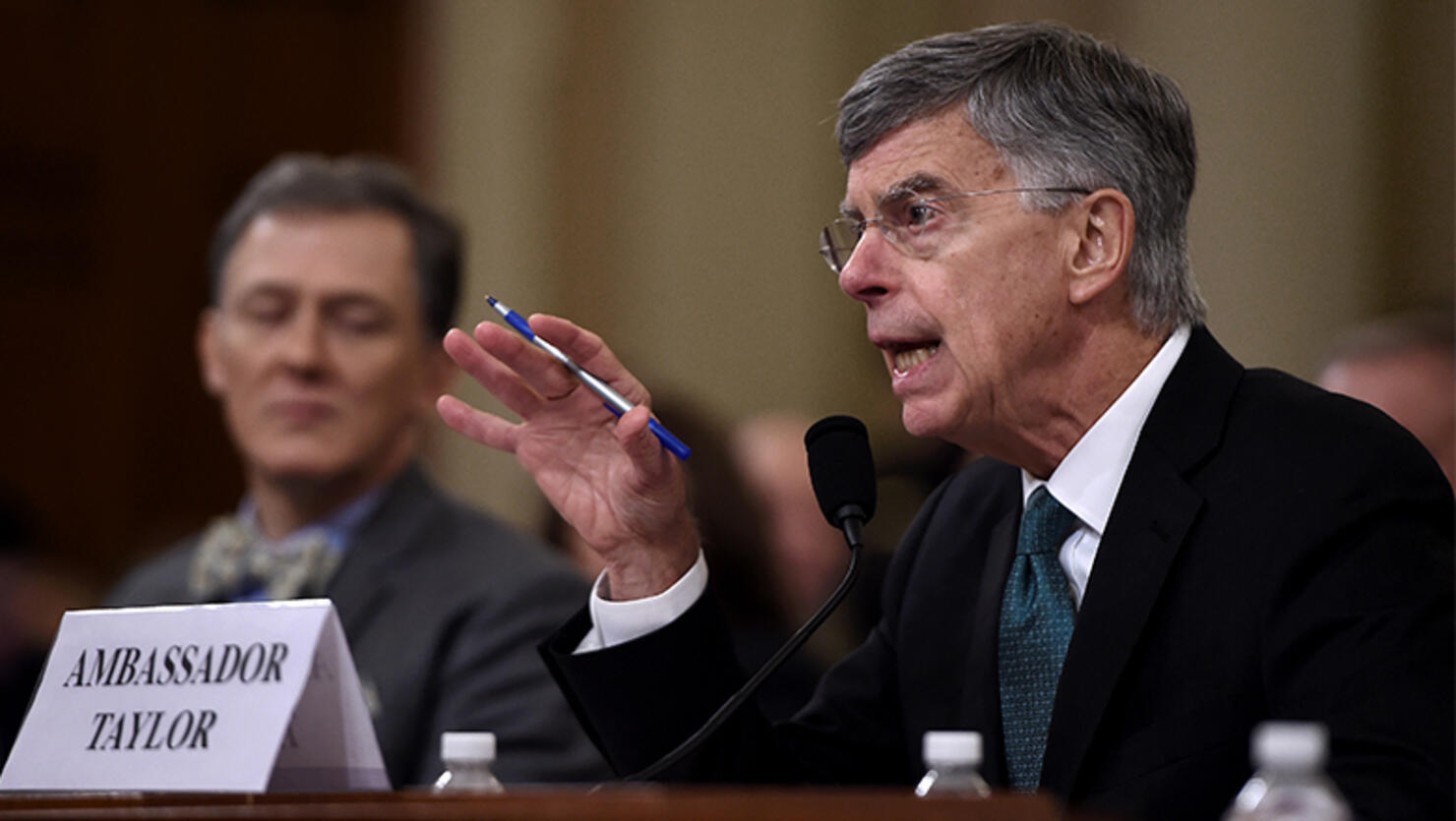 William Taylor, the top U.S. diplomat in Ukraine, and George Kent, the deputy assistant secretary of state for European and Eurasian affairs, gave the first public testimony in the House of Representatives impeachment inquiry into President Donald Trump.
Taylor told members of the House Intelligence Committee that he believed that $400 million in military aid was linked to Ukrainian President Volodymyr Zelensky publicly acknowledging investigations into alleged corruption by Vice President Joe Biden, and his son, Hunter, and possible interference in the 2016 presidential election.
Taylor admitted that he initially believed that only a planned White House meeting between Trump and Zelensky was reliant on Ukraine conducting the investigations. He said that after a September meeting between Vice President Mike Pence and Zelenksy, it became "clear" to him that the aid was tied directly to Zelensky announcing the investigations.
Democrats claim that the request violated all political and diplomatic norms because Trump was linking military assistance to investigations into his political rivals. They suggested it was a crime, using words like bribery and extortion, to describe the request from Trump. Taylor said that the United States should not be withholding aid without a "substantive reason," especially when Ukraine is dealing with Russian aggression along its border.
"Again, our holding up of security assistance that would go to a country that is fighting aggression from Russia for no good policy reason, no good substantive reason, no good national security reason is wrong," Taylor said.
Kent told lawmakers that asking Ukrainian officials to investigate the Bidens was not the best way to go about fighting corruption, saying that it was not a "thoughtful and well-calibrated anti-corruption program."
Rep. Denny Heck, a Democrat from Washington, asked if it was harder for U.S. officials to do their jobs when American leaders are urging other countries to investigate their political rivals.
"I believe it makes it more difficult for our diplomatic representatives overseas to carry out those policy goals, yes," Kent replied. "There's an issue of credibility. They hear diplomats on the ground saying one thing, and they hear other US leaders saying something else."
Taylor said that he agreed with Kent's opinion.
"I would," Taylor said. "Our credibility is based on a respect for the United States, and if we damage that respect, then it hurts our credibility and makes it more difficult for us to do our jobs."
Republicans attempted to push back against claims that the military aid was tied to politically-motivated investigations and repeatedly pointed out that the military assistance was released to Ukraine. Utah Republican Chris Stewart said that most of the evidence against the President is based on hearsay while the ranking Republican member of the committee, Devin Nunes, accused the Democrats of using witnesses to invent a narrative to support impeachment.
"What we will witness today is a televised theatrical performance staged by the Democrats," Nunes said in his opening statement. 
Rep. John Ratcliffe, a Republican from Texas, pointed out that Zelensky has stated that he never felt pressured to launch any investigations and was unaware that the military assistance had been withheld.
"The Ukrainian president sitting in front of the world press and repeatedly, consistently over and over again, interview after interview, said he had no knowledge of military aid being withheld, meaning no quid pro quo, no pressure, no demands, no threats, no blackmail, nothing corrupt and unlike the first 45 minutes that we've heard from the Democrats today that's not second-hand information. It's not hearsay. It's not what someone overheard what Sondland say. That was his direct testimony," Ratcliffe said.
The hearings will continue on Friday (November 15) when Marie Yovanovitch, who is the former U.S. ambassador to Ukraine, will testify. The Democrats also released the schedule for public hearings next week, which will include testimony from E.U. Ambassador Gordon Sondland, former Ukraine special envoy Kurt Volker, and top Ukraine expert, Lt. Col. Alexander Vindman. You can listen to all the hearings live on iHeartRadio and get a breakdown of everything that happened with our Impeachment Today podcast.
Photo: Getty Images