Eminem's Rep Addresses His Lyric About Siding With Chris Brown Over Rihanna
By Hayden Brooks
November 13, 2019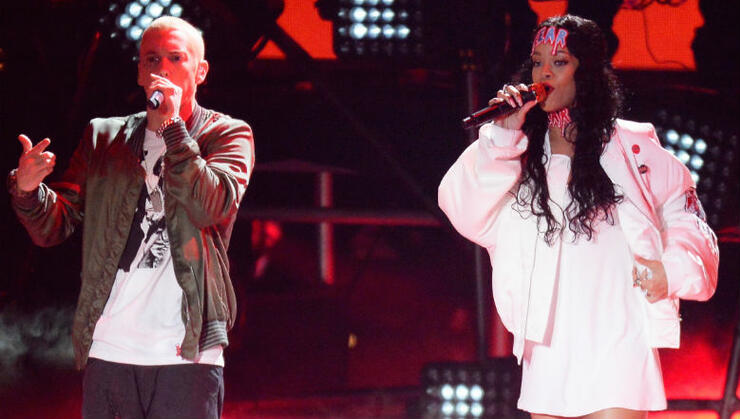 Eminem's publicist released a statement about his recently leaked lyrics, which heard the rap titan side with Chris Brown instead of Rihanna regarding their infamous 2009 assault case.
In a statement via XXL Magazine, Dennis Dennehy, said, "This is a leak of something that's over 10 years old. After Eminem recorded it, he scrapped it, and rewrote it. Obviously he and Rihanna have a great relationship."
As we previously reported, a Reddit user posted a seven-second snippet titled "(SNIPPET) Eminem - Things Get Worse (Rihanna Diss)," which appeared to be an unreleased version of a song that would go on to become B.o.B.'s 2011 track "Things Get Worse." On the leaked snippet, Em raps, "I'm not playing, Rihanna, where'd you get the V.D. at?/ Let me add my two cents/ Of course I side with Chris Brown/ I'd beat a b***h down, too if she gave my d**k an itch now." According to reports, the verse was originally taken out during the recording sessions of Em's 2009 album, Relapse. Earlier this week, the track leaked in full.
Em and Rihanna have collaborated on a number of cuts, including 2010 track "Love The Way You Lie," 2012's "Numb" and 2013's "The Monster."
Chat About Eminem's Rep Addresses His Lyric About Siding With Chris Brown Over Rihanna