Luke Combs Delivers Rowdy 'Beer Never Broke My Heart' At 2019 CMA Awards
By Blake Taylor
November 14, 2019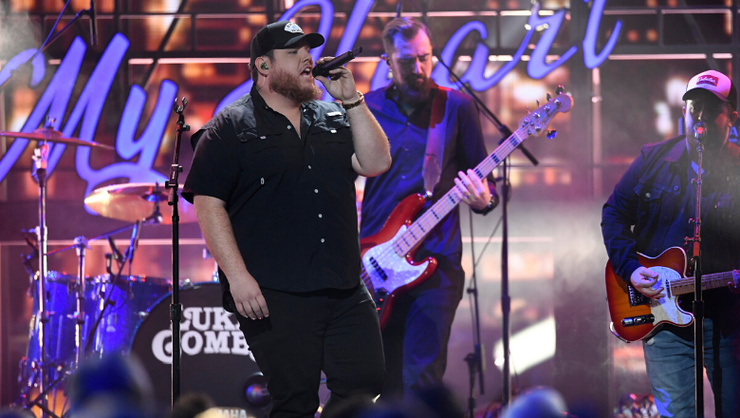 Luke Combs got the crowd going with his energetic performance of "Beer Never Broke My Heart" at the CMA Awards on Wednesday (November 13).
Following his win for Song of the Year for "Beautiful Crazy" the country singer took stage in his trademark button up shirt and ball cap to deliver the hit song to the packed Bridgestone Arena. Combs' excitement from his win was evident as he belted the words to the fan-favorite song.
In May of 2019, Combs released "Beer Never Broke My Heart" which, quickly after shot up to No. 1 on the country charts. The upbeat track was the lead single from his second studio album, What You See Is What You Get, which was released on November 8. The second and current single from the album, "Even Though I'm Leaving" is currently making it's way to the top of the charts.
What You See Is What You Get follows up the North Carolina native's wildly successful This One's For You album. This project included fan favorite No. 1 hits including "Hurricane," "When It Rains It Pours," "One Number Away," "She Got the Best of Me" and "Beautiful Crazy."
Combs has had quite the journey over the last year which got him several nominations at the 2019 CMA Awards. He was nominated for Musical Event of the Year alongside Brooks & Dunn for "Brand New Man." Additionally, Combs was nominated and won Song of the Year for "Beautiful Crazy" and Male Vocalist of the Year against Dierks Bentley, Thomas Rhett, Chris Stapleton and Keith Urban.
See a full list of winners from the 53rd Annual CMA Awards here and check out Combs' rowdy performance from the evening below.
Chat About Luke Combs Delivers Rowdy 'Beer Never Broke My Heart' At 2019 CMA Awards