Maren Morris Remembers Late Producer Busbee During 2019 CMA Awards Speech
By Taylor Fields
November 14, 2019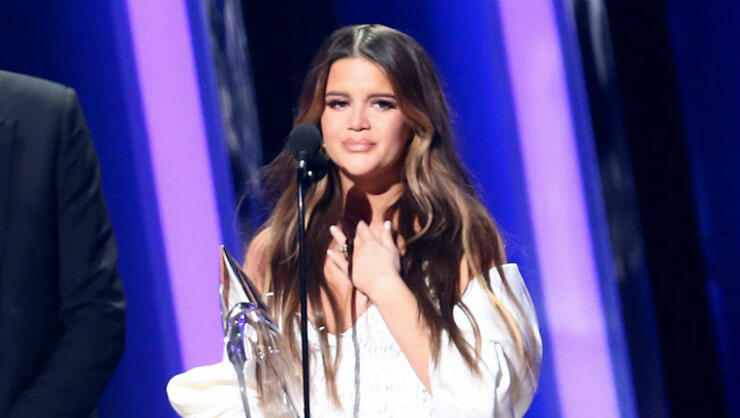 It's been just under two months since producer/songwriter Busbee passed away. The super talent has worked a long list of country stars over the years, including Maren Morris, who took home the 2019 CMA Award for Album of the Year for her latest release, Girl. And during her acceptance speech, Maren paid tribute to the late producer with an emotional, tear-jerking speech.
After thanking her team, her family and friends, Morris said, "I would be really remiss if I didn't mention a huge facet of why this album sounds the way it does, and we miss him so dearly, and I ... he texted me the morning that I got the nomination for Album of the Year this year, and we were so excited, and that's our friend Busbee."
She continued, "His wife, Jess, is here tonight and she looks so beautiful. Thank you for sharing your husband with us once a month, and my heart just goes out to you and your beautiful daughters. I hope when they listen to this record, or any of the songs that he made that made us all better, they know how amazing their father was."
Busbee, full name Michael James Ryan Busbee, produced Maren's Girl, as well as her 2016 debut album Hero, in addition to holding writing and production credits across a wide variety of genres, especially in country music. He tragically passed away at the end of September at just 43 years old after a battle with Glioblastoma, which is a form of brain cancer.
After his death, Maren shared a heartbreaking post on social media, writing, "This just doesn't seem fair. I will always love you and the songs and albums I was lucky to make with you, Busbee. Rest well, my sweet friend."
Chat About Maren Morris Remembers Late Producer Busbee During 2019 CMA Awards Speech