Prince Harry & Meghan Markle May Skip The Queen's Christmas Celebration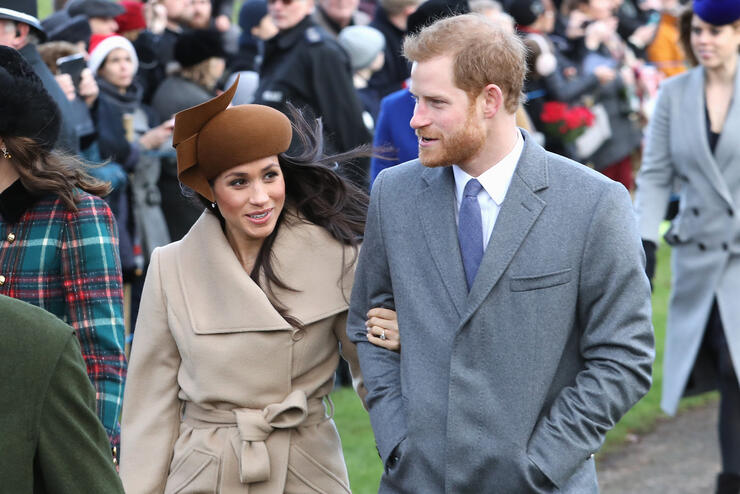 Attending Queen Elizabeth's annual Christmas celebrations at her Sandringham estate is a long held tradition for the royal family. As the holiday season draws closer, though, there's speculation that Prince Harry and Meghan Markle won't be attending the Sandringham Christmas celebrations this year. Though some will surely credit their potential absence to the ongoing rift rumors, their reason for skipping out is actually pretty relatable for al married couples.
The Duke and Duchess of Sussex are planning to travel abroad in the coming weeks so they can spend Archie's first Thanksgiving with Meghan's mother Doria Ragland. The family of three was originally expected to only stay in Los Angeles for Thanksgiving, however, another source told Vanity Fair they may stay with Doria through Christmas. After spending the last two Christmases with the royal family in England, it makes sense that Harry and Meghan would want to spend time with Doria over the holidays, too.
Despite the rumors of an extended American holiday, nothing is set in stone just yet. The source told Vanity Fair "there is a possibility" the Sussexes will spend Christmas in America, but that "the plans have not been finalized." The insider also added, "They will be in America for Thanksgiving later this month and there's a chance they might choose to stay out there a while longer, which might mean missing Christmas."
Harry and Meghan's potential absence, though a royal family tradition, isn't expected to upset Queen Elizabeth, either. Royal biographer Sally Bedell Smith also spoke with Vanity Fair about the royals' Christmas plans. While she said the decision to spend the holidays in America "could be seen as another piece of evidence that [Harry and Meghan] are going their own way," she says the queen will understand their decision because Meghan lives so far away from her own family.
Photo: Getty
Chat About Prince Harry & Meghan Markle May Skip The Queen's Christmas Celebration